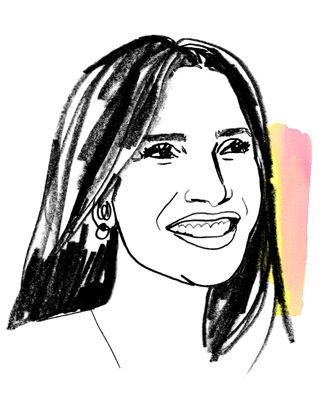 Padma Lakshmi.
Illustration: Lauren Tamaki
Padma Lakshmi eats for a living. As the host of Top Chef – the reality cooking competition that just wrapped up its 15th season – and the author of several cookbooks (her latest book is The Encyclopedia of Spices and Herbs), you'd think she'd have time for little else. But the multi-hyphenate also, somehow, was able to create a new capsule makeup collection with M.A.C. Cosmetics that launches on Thursday. Lakshmi lives in New York City with her 8-year-old daughter, Krishna. Here, she shares how she gets it done.
On a typical morning:
I usually get up at 6:15 a.m. I have one cup of tea with milk and honey – usually English breakfast or Earl Grey. I'm very particular about my tea; it's got to be really good and made properly with not too much milk and not too sweet. Then I snooze a little bit more. By 6:30 a.m., I'm half awake and half trying to shake awake my daughter, Krishna. I have breakfast with her, usually as a picnic on the floor of my bedroom. She has to leave for the bus around 7:10, so I try to get her dressed, brushed, and out the door. Then I usually read emails and graze the news to see what's going on.
How she works out:
I need to work out more than most other people because I'm eating much more than other people. I do Pilates three times a week and I try to box twice a week and lift weights twice a week as well if I can. On average, if my schedule allows, I probably work out five to six times a week for 90 minutes to two hours.
On cooking while traveling:
When filming Top Chef, I'm usually away from home with my daughter, nanny, and assistant for up to 8 weeks. I want to eat very clean, simple and healthy when I'm not on set. I also don't want my child eating room service for weeks on end. Sometimes I've had corporate apartments, which always have kitchens. But often that's not possible so we have a hotel suite – and we make our kitchen with a plastic folding conference table, hot plate, blender, and toaster. On one hot plate we can make spaghetti with tomato sauce, stir-fried noodles, and eggs every morning, and we wash pots and pans in the bathtub. When we were staying in Austin at the Driskill – which is this very old hotel that's supposed to be haunted – someone from the show told me, "Oh I knew it was your floor, because I could smell curry from down the hall."
What makes a perfect recipe:
The ideal recipe is one that is very simple and very specific. Clear, concise and simple directions are important, as well as giving visual cues to know when something is done. Everyone's oven or stove runs hot or cold or is weird or different, so it's better to say, Sauté this ground meat for 12 to 15 minutes, make sure all the pink is gone but it's not dried out, than to just give the minutes. Sometimes I also say, Listen to a crackling sound. When the mustard seeds pop, you know they're done. It's important to empower the cook using your recipe to learn how to make that recipe when you're not standing in the room.
On creating a makeup collection for all skintones:
M.A.C. was the first company that made foundation and makeup colors that were very good on medium and darker skin-toned people. When I first started modeling, there wasn't that much out there, especially for my skintone. Yes, I'm brown, but if you use the wrong color on me, my skin can look really gray or ashy. And a lot of time, the lighter eye shadows or lipsticks don't show up on darker skin. So I always loved, respected and used M.A.C. for years and years as a brand that catered to the needs of various complexions. Working with them was a no-brainer for me. It took almost three years to make this collection because I wanted to make sure that the colors are right.
On advocating for endometriosis awareness:
I've suffered from endometriosis for 23 years before I got a proper, correct diagnosis. It put me out of commission for, on average, a week each month of my life from age 13 until I was diagnosed at 36. I have since had five surgeries for endo-related reasons. I didn't know about this disease until somebody finally listened to my symptoms, told me I wasn't crazy, and explained what I had. Once I had the surgeries, got on the other side of the pain and I saw what life was like for a normal person without endometriosis, I was shocked. My relief and happiness turned into rage because I couldn't believe I was walking around for so long without treatment. If I had a problem with my prostate or if I had erectile dysfunction, there would be many treatments readily available for me. But because I have a women's reproductive health issue, I had to suffer.
Her nighttime routine:
No two days are alike for me – sometimes I'm filming 15 hours a day. But if it's a normal New York day for me, I usually try to pick up my daughter from the bus stop or meet her at home. She usually has a bath, we go over her homework, and then we eat dinner at 7:30 p.m. My daughter has disco hours. She does not ever want to wake up or go to sleep, but I try to get her to sleep by 9:30 p.m. Sometimes she goes down in my bedroom and I have to carry her to her bedroom. But on the very rare occasion she falls asleep in her room and I don't fall asleep putting her to bed (which is, by the way, what happens 30 to 40 percent of the time), I go back to my room and look at emails, go on social media, and then look at the news or read.
What she's learned through her career:
Agents and managers are great, but at the end of the day I've always gotten my own work. My jobs, whether it's been Top Chef or my writing for the New York Times, Harper's Bazaar or my books, have always been self-generated or I've been at the right place at the right time. I have a great agent now, but it took me forever to get her. So I think anytime you can self-generate your own work, it's better. That way, it's in your hands and it's also more gratifying.