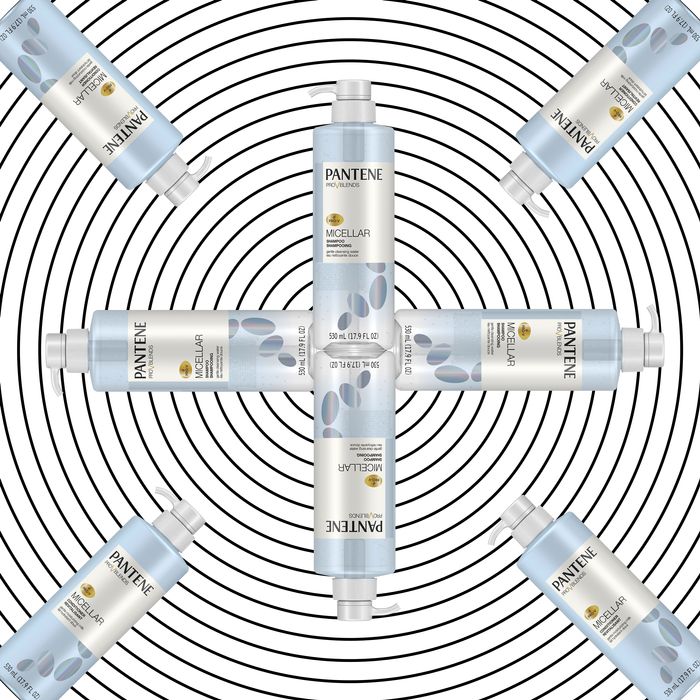 Micellar water has probably been on your skin-care radar for the past few years as a makeup remover, but it turns out it's also good for your hair. What is it exactly? A fancy name for something simple: tiny beads of oil molecules that float in soft water, which attract dirt and makeup so you can wipe them away. Pantene Pro-V's new shampoo and conditioner pair the moisturizing and cleansing benefits of the liquid with its iconic Pro-V nourishing vitamin blend and antioxidants.
Pantene's Micellar Gentle Cleansing Water Shampoo is pH-balanced for gentle and effective cleansing, and it's made without dyes, harmful parabens, or moisture-blocking silicones. The Micellar Gentle Moisturizing Milk Conditioner is a lightweight milky cream that goes deep beneath the surface of hair to deliver moisture directly to strands instead of sitting on top of the hair and weighing it down. Like the shampoo, it doesn't contain parabens, or dyes.
The products work best on thin, fine hair because while fine hair does tend to become saturated with oil more quickly than other hair types, washing it too much and with the wrong products can strip hair of essential oils that help keep hair strong and moisturized. They also work great for coarser hair that tends to be drier and needs gentler products. The new Pantene micellar products ultimately help nourish and build stronger strands that can stand up to pollution and sun damage. And they're worth a try because simply pouring micellar water into your current products isn't ideal.
The shampoo and conditioner are available now in major drugstores and retail stores.
If you buy something through our links, New York may earn an affiliate commission.