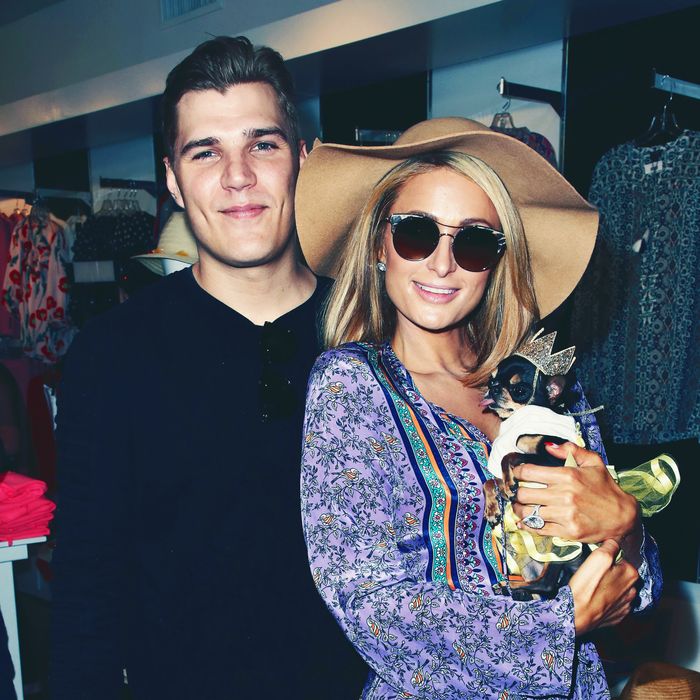 Chris Zylka, Paris Hilton, dog, and ring.
Photo: David Livingston/Getty Images
I don't know how I didn't get a breaking news alert on my phone about this, but a real crisis reportedly happened on Friday: Paris Hilton's $2 million engagement ring flew off her finger while she was dancing at a Miami club … and momentarily went missing.
The feminist DJ got the massive 20-carat diamond ring just before the New Year, when she became engaged to Leftovers star and Disney-style "Paris" tattoo-haver Chris Zylka. Hilton, who wants to have three weddings in three different places to one man, attended an early Friday morning set by British DJs Above & Beyond at former soda factory RC Cola Plant at the Mana Wynwood in Miami (sure, okay).
Then, her ring apparently flew off her finger and into the packed crowd, which always happens to me and my giant diamond rings when I'm clubbing, too. Per "Page Six":
A witness told us, "Paris was dancing with her hands in the air, and the next minute her giant ring had flown off. She was really panicked as the venue was packed and very dark, it was the early hours of the morning and it was crazy in there."
But never fear: "Page Six" reports Hilton's security team and Zylka then scoured the venue with torches (???), and ended up finding the ring in an ice bucket in the VIP section, just two tables down. The witness said, "There was a frantic scramble with everyone looking for it, people were crawling on the floor, under tables, under other people's feet, and under seats."
The witness also claims Hilton "cried with relief" when she reunited with the ring. Hilton seems to have a habit of losing things, but at least this time, her new DJ friends sent her a nice tweet after the ordeal: