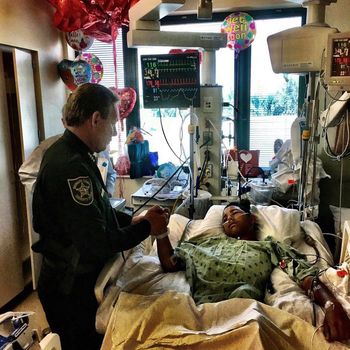 Anthony Borges in the hospital after the shooting.
Photo: @rob_bennett/Twitter
Two students who were wounded during the horrific February 14 shooting at Marjory Stoneman Douglas High School in Parkland, Florida, are suing authorities over the massacre.
The South Florida Sun-Sentinel reports attorneys for two survivors of the attack — 15-year-old Anthony Borges, who used his body as a human shield to protect classmates from gunfire and was subsequently shot multiple times, and Kyle Laman, also 15, who was shot in the foot — sent separate letters showing their intent to sue over the shooting.
Laman has already undergone two surgeries to reconstruct the ligaments damaged as a bullet tore through his ankle and foot, the Sun-Sentinel reports, and is dealing with the trauma of gunman Nikolas Cruz allegedly looking him right in the eye before shooting. Borges remains hospitalized as he recovers from being shot five times in his legs and torso.
Borges's notice, meanwhile, alleges negligence by Broward County Public Schools, Marjory Stoneman Douglas's principal, and the school's resource officer. Meanwhile, Laman's letter was sent to the Broward Sheriff's Office, the FBI, the Broward School Board, and other defendants.
According to the Sun-Sentinel, Laman's notice claims authorities "failed to act at the moment of need" and that the FBI had been warned about Cruz. It also alleges the Florida Department of Children and Families determined Cruz was not a risk even though there were "warning signs stretching back over a decade."
A spokeswoman for the Department of Children and Families told the Sun-Sentinel that the agency was reviewing the letter. "It is important to note that the department's interaction with Mr. Cruz in 2016 was related to allegations of caregiver abuse," she said. Henderson Behavioral Health, which treated Cruz and also received the notice, said it couldn't comment on a patient's treatment, while the school board and FBI declined to comment and the sheriff's office couldn't be reached.