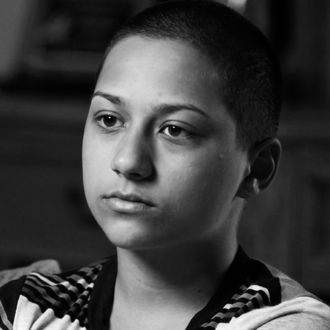 Emma González on
60 Minutes
.
Photo: 60 Minutes
In a new interview with 60 Minutes, several survivors of the horrific shooting at Marjory Stoneman Douglas High School in Parkland, Florida, detailed the death threats they've received since becoming outspoken anti–gun violence activists. Students Emma González, David Hogg, and Cameron Kasky spoke of the threats they've been subjected to — "And I, for one, am paranoid about a bomb being thrown in the window," González said of the activists's new office space — but they aren't letting that slow them down.
"The fact that I'm getting death threats, Emma's getting death threats, Cameron's getting death threats, it shows the polarized state that America's in," Hogg told 60 Minutes.
Instead, the teens are instead focusing on the March for Our Lives, the upcoming March 24 nationwide protest against gun violence. Kasky explained to 60 Minutes that the group has accepted some help from adults in preparing for the event — mostly, for permits, hotel rooms, and other things you have to be over 18 to organize — but otherwise, it's all them. "We all remember everybody has an agenda," Kasky said.
He continued, "We allow them to help where they can, but we make sure that we are calling the shots. And everybody who tries to call the shot for us, we respectfully say, 'That's not what this is about.'" The teens also explained that they've declined to endorse politicians and that they've rejected donations that have come with strings attached.
González also spoke with 60 Minutes about her newfound role as one of the faces of the anti–gun violence movement after her powerful speech following the shooting went viral — and how she never asked to be in this position. "I'm not upset at that," she said. "I'm just never going to be the same person again."
Watch the full interview here.