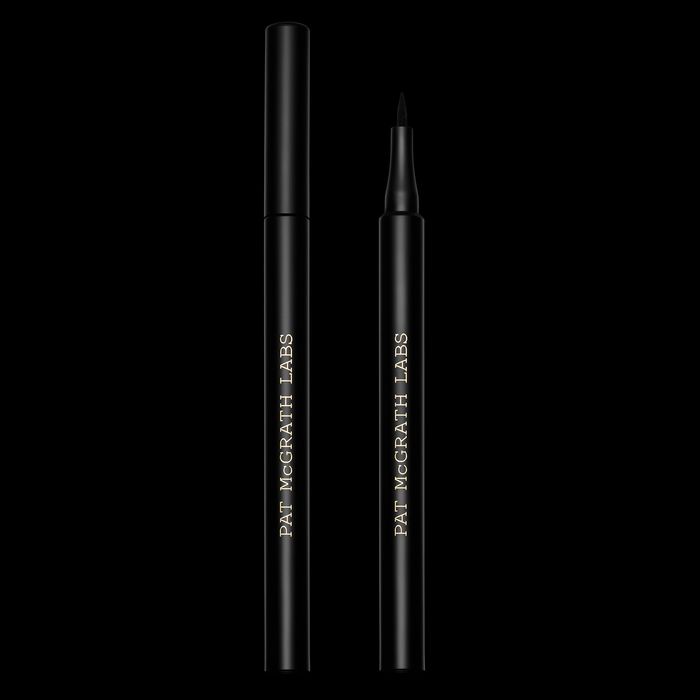 Photo: Courtesy of Pat McGrath
Legendary makeup artist Pat McGrath (or "Mother" as she's known to Karen Elson and Naomi Campbell) has heard your pleas to finally create the perfect eyeliner. Did you always hope for it to be smudge-free on everyone, blacker than a blackout, and completely immobile? Did you want it to be waterproof? Well, Mother went ahead and gestated it.
Her baby, the Perma Precision Eyeliner, is all those things, and came forth into the world about two hours ago, via her website. She weighs about 1.2 grams, and both mother and child are doing well. In fact, the child is doing so well that Mother McGrath took to signing actual autographs of "Pat XX" using her new baby at a recent press event. (Her baby was also spotted backstage at this season's Miu Miu show, used to create a "lightning"-shaped eye design).
Formulated with what McGrath calls a "Flexi-Art" tip, she says her eyeliner is perfect for drawing "elegant contours, pristine definition and an ultra-fine or dramatic line" (or, drawing wobbly lines till you get into the groove of your cat-eye). Indeed, the best thing about the eyeliner is the precision and versatility, making it one of the easiest ones to use. Exert the tiniest bit of pressure on the pen, and an inky line (that doesn't bleed) forms easily.
I especially like that the tip never feathers over time with use, and that you can use the tip to create the tiniest pinprick of color. You can wield it on its side to easily "stamp on" a straight line, or you can swirl it to create a line that varies in thickness. After testing it for several days, I found that its only detriment is that while it's very long-wearing, the color does fade a tiny bit after multiple hours of use, especially on my oily eyelids.
Ariana Grande used to joke that her eyeliner trick was to "say a little prayer," but this eyeliner only requires that you believe that Mother knows best. And would you believe it, Mother has added even more to her brood. Also launching today is McGrath's new eye-shadow palettes, MTHRSHP, which contain six color sets. There's Platinum Bronze (her take on the Urban Decay Naked palette) and La Vie En Rose (containing pinks and purples), with Bronze Ambition to follow next week.
Photo: Courtesy of Pat McGrath
Photo: Courtesy of Pat McGrath
If you buy something through our links, New York may earn an affiliate commission.