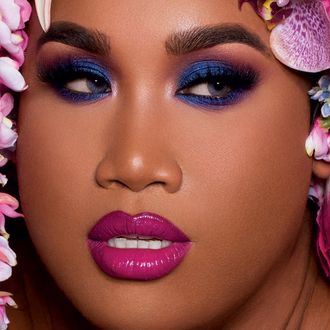 Florals for spring might not be the most novel idea, but beauty vlogger Patrick Starrr's (with three R's) new Floral Realness line for M.A.C Cosmetics is here to change that. As you might expect from an Insta-famous vlogger who is known for his sense of humor and makeup transformations into Disney characters, the collection is playful. As a seasoned M.A.C-collaboration veteran (he made a neutral limited-edition holiday line last year), Starrr's newest collection takes on more vibrant, bold hues and packaging.
All of the makeup products are divided into two kits called Me So Fleek and Me So Chic, and each one includes products to create a full face. Me So Fleek is bolder, and includes one pinkish-plum matte lipstick, a neon-pink lip gloss that has blue-pearl flecks, and an eye-shadow palette with shimmery pink and blue shades.
Me So Chic has more neutral tones, like a pinkish nude lipstick and a pearly nude lip gloss. The coordinating eye-shadow palette has two muted pink and violet shades, as well as two striking bright-purple shades. Two products are also named for his beloved mom with the Sweet MamaStarrr lipstick and lip glass. Each of the two kits come with a blush compact with two pink or nude shades. It's all the florals you could want for warmer weather minus all of the allergies.
Starrr's M.A.C. collaboration will hit stores April 19.