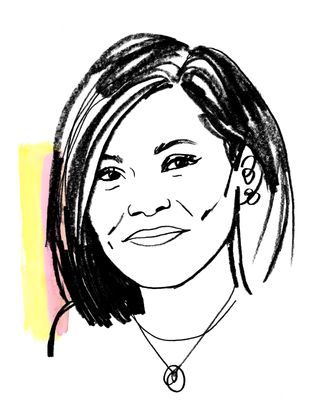 Illustration: Lauren Tamaki
"I have like seven different jobs, basically," the journalist and political commentator Alex Wagner told me. Chiefly, she's a contributor to CBS News, a contributing editor at The Atlantic magazine, and a co-host of The Circus: Inside the Wildest Political Show on Earth, Showtime's political docuseries on the drama unfolding in Washington, airing on April 15. Her forthcoming memoir Futureface, about her Burmese-American ancestry will be published by Penguin Random House in mid-April. On top of that, Wagner and her husband Sam — former White House chef for the Obamas — have an 8-month-old baby at home. Here's how she gets it done.
On an early-morning commute:
If I'm at CBS, depending on whether I am filling in for Gayle [King] or Norah [O'Donnell] or if I have a piece on the air, I get up as early as 4 a.m. or as late as 5:30–5:45 a.m. CBS sends a car to pick me up in the West Village. Sometimes I'll call an Uber or a Juno if there's a problem with the car — or if I get into a fight with the local traffic police, which has happened twice!
On reading in the makeup chair:
If I'm presenting a piece, sometimes I'll stop in the tracking booth to fix a tracking line or something — then it's straight to the hair-and-makeup chair where the wizards get me camera-ready. We've gotten to a place where it can all be done in about 20 to 25 minutes, and that's mostly because I keep chopping my hair shorter and shorter, so there's just less work and I have a fairly standard look on camera. It is critical that the makeup get applied, but we try not to do too much.
If I'm filling in on CBS's morning show, there's a lot of reading. There's reading in the makeup chair, there's reading on set — I'm constantly digesting information and getting prepared with the news of the day. I live in a perpetual state of reading, constantly looking at Twitter, news articles, news roundups.
On breakfast:
I try and eat breakfast at the time that everybody else is eating breakfast — even though I've been up for many more hours than most normal people have been. I eat breakfast regularly around 9 or 10, lunch around like one o'clock and dinner around seven o'clock. I try and have some protein of some kind, maybe some yogurt or a hard-boiled egg. I need carbohydrates, because bread is the source of all life. I don't think that's scientifically true, but it is nutritionally true for me. A nice piece of toast with a lot of butter is a very good way to start your day. I do not drink caffeine. Alex Wagner caffeinated — well, it's a national security concern! So I drink decaffeinated black tea and decaffeinated coffee, which makes me a sucker, but it's just what needs to happen.
On multiple jobs:
I'm constantly juggling — I'm writing for The Atlantic, doing correspondent work at CBS in addition to my anchoring schedule, and with the book coming out I'm doing a lot of extra writing extensions of the book. On days when I'm not doing CBS, I start my day like a normal human being around 6:30 in the morning. I work out at the gym, then I come to the office and drink coffee out of a paper cup like everybody else. It just depends on what day of the week it is.
On her scheduling system:
I'm remarkably organized for someone who does not have a dedicated personal assistant and only uses iCal. I have an elaborate color-coded system that only occasionally works. I somehow keep it together — maybe I'm truly organizing it in my lizard brain. I'm always very fascinated by people who don't know what their two o'clock or their 3:30 appointment is, they just know they have something. I know exactly what my day is like. And I calibrate everything from my footwear to my eyeliner based on what's going to be happening for the rest of the day.
On The Circus:
I'm going to basically be on the road Monday through Friday for six weeks. For one episode, I did five states in one day, which was totally insane. We're basically responsive to whatever is happening in the news. That will likely find us in Washington for some part of the next season, but we'll be very focused on the midterms as well. You'll see us traveling all over the country to key Senate and House races. It's going to be a lot of early-morning flights, it's going to be a lot of me eating string cheese sticks for breakfast instead of warm butter toast, it's going to be putting on a lot of my own under-eye concealer and eyeliner in the airport bathrooms. It's going to be a lot of hustle, but I'm really looking forward to it.
On evenings:
I just had a baby, so I try and get home around six even if that means putting the baby down and then getting back on the computer to look at final edits or something. I'm there every night to put him down unless I'm on the road, which is really important to me. We have an amazing caregiver, a nanny who helps us out every day and she's wonderful, but we also are in this to be parents, so we try and spend some quality time with him.
Mealtime preparation is done on a day-by-day basis for the most part. Sam and I are so excited to eat that in the morning we'll check in and say "Okay, what do you want to have for dinner?" Each dinner is an event. Sam will start prepping while I'm giving the baby a bath. We have a lot of vegetable-heavy meals, just because we're trying to be responsible about meat eating — which isn't to say that we don't love a good steak every now and then.
We eat around 7:30 to 7:45. We always have a nice glass of wine and talk about what we did during the day. Then we watch some delicious television. Right now, we're watching Mindhunter and Billions. I try and get in to bed by 10 or 10:15 at the latest. I need more sleep than the average bear — a fact I happily admit. Gayle King is my hero, and I wish I could get four hours of sleep and be articulate, but I can't.