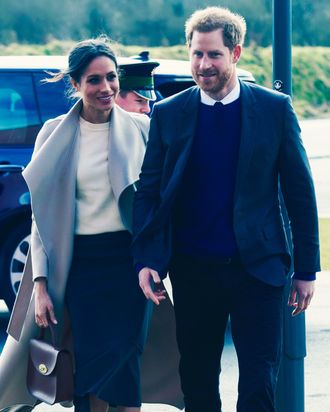 Meghan Markle and Prince Harry.
Photo: Arthur Edwards-WPA Pool/Getty Images
With the Royal Wedding 2.0 now less than 60 days away (how time flies!), Prince Harry is apparently working hard to get in shape. Under the guidance of his messy bun–loving fiancée Meghan Markle, he's quit reportedly smoking, started drinking less, been working out, and found a nutritionist — and he's already lost 10 lbs as a result.
An "insider" told the New York Daily News that Markle has been helping the ginger prince on his path to getting his "soldier body" back since they announced their engagement in November. The Suits star has apparently been cooking healthy meals for the pair. She also encouraged him to give up smoking and cut back on his alcohol consumption for weight-loss, health and … uh … sperm reasons. (He reportedly wants to be a dad, like, yesterday.)
Per the Daily News:
"One of the reasons she got him to quit smoking is because smoking affects sperm production," our insider said. That source estimates Harry has dropped "around 10 pounds" since he and Markle announced their engagement in late November. 
Prince Harry has also reportedly consulted with nutritionist Gabriela Peacock. And, just like Pippa Middleton did before her wedding, he's also been working with a personal trainer at the exclusive KX Gym in London. The source said, "He's been spotted there at 7 a.m. almost every day. He's getting his soldier body back." (The prince completed two tours in Afghanistan during his ten years in the military.)
We can only hope that he's taking gym selfies to track his #SheddingForTheWedding progress.