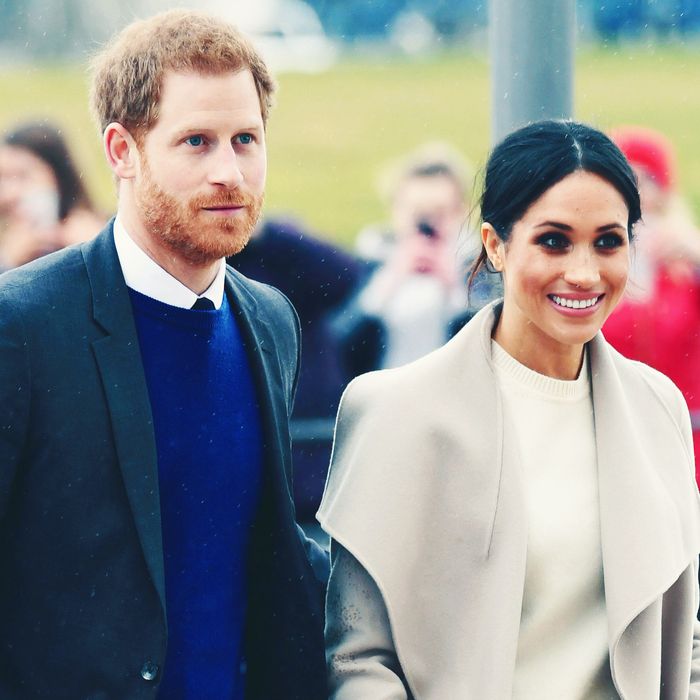 Prince Harry and Meghan Markle.
Photo: Karwai Tang/WireImage
The royal wedding between my close personal friends Prince Harry and Meghan Markle is only 50 days away … so don't you think it's a little rude that I'm only just learning about their respective bachelor and bachelorette parties?
It was previously reported that the Suits star already had a spa-day hen party — British for "bachelorette party" — at Soho Farmhouse in Oxfordshire, England. But now, it sounds like maybe she instead just had an actual spa day there? Because Vanity Fair's royal expert Katie Nicholl reports Markle's close friend Markus Anderson, a consultant for Soho House, is still in the planning stages of her bash. Per VF:
Meanwhile Markus, who engineered one of Harry and Markle's first dates at Soho House in London in the summer of 2016, is spending every spare moment planning Meghan's hen. "It is going to be fabulous, glamorous, and very exclusive," says a source close to Anderson. "Marcus knows some wonderful venues, saying that, I bet he'll keep it simple and close to home."
And beyond that, Prince Harry's friend Tom Inskip (whose nickname I'm sure you've guessed is "Skippy") and his older brother Prince Harry are still trying to figure out his stag party (British for "bachelor party") — all the way in Mexico.
"Tom is in charge of finding the location. It has to be somewhere they won't be found and a place they can completely take over. Tom was checking out this fabulous place in Mexico last week and he loved it," reports a friend. "It might be a step too far for everyone to go to Mexico but it's one of the places on the wish list."
But lest you worry that Prince Harry's Mexico bash will be anything like his wild Vegas trips of yore, Vanity Fair notes that club-loving Prince William has been in charge of keeping the whole thing from getting too wild. Besides, the ginger prince hasn't been drinking or smoking as much anymore.
So anyway, like I said, it's extremely inconsiderate that they've not kept me fully up-to-date with their plans, but I hope they know I'm still available to attend both of these parties.