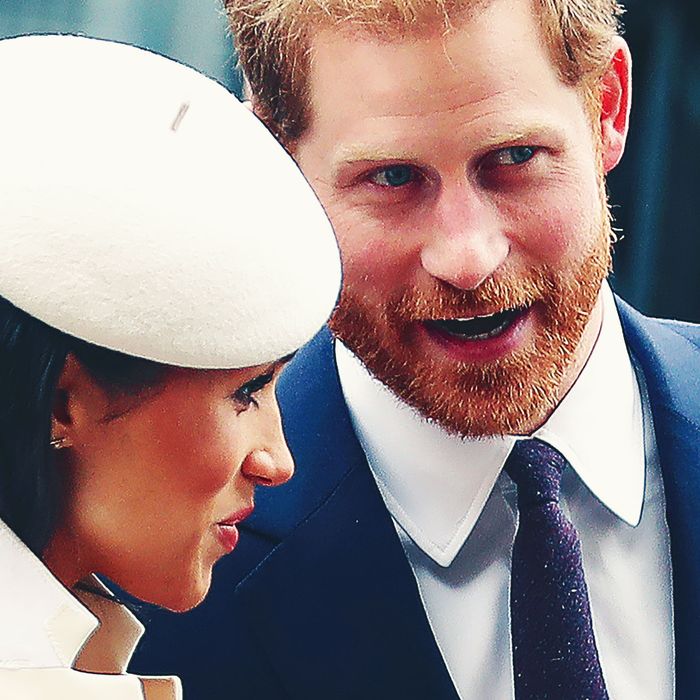 Meghan Markle and Prince Harry.
Photo: Daniel Leal-Olivas/AFP/Getty Images
While we're still busy preparing for the upcoming wedding between British royal Prince Harry and California queen Meghan Markle (and by that we mean, frantically rewatching Suits), it turns out the ginger prince already has big plans for their postnuptial life: He wants kids, like, yesterday.
According to Katie Nicholl, a royal expert and author of the new book Harry: Life, Loss, and Love, Prince Harry hopes to start a family with Markle — and basically, he wants that to happen immediately. Speaking with Entertainment Tonight, Nicholl said, "My sources are saying that Prince Harry, particularly, is very keen to start a family, pretty soon after the royal wedding. He's made no secret about wanting children."
Prince Harry caught baby fever after Prince William and Kate Middleton started having kids, Nicholl said. Now, both he and Markle are both apparently quite close with Prince George, 4, and Princess Charlotte, 2.
"Meghan is very doting with children," Nicholl told ET. "She is very maternal and she was thrilled to meet George and Charlotte. I think one of the lovely things, anecdotes, that I discovered [while writing] the book was, it was actually a moment involving children, when Meghan really fell for Prince Harry."
So will Markle become pregnant as soon as the wedding is over or will she take some time to get used to her new royal life? Who knows! (Celebitchy said they wouldn't be surprised if there's a pregnancy announcement by Thanksgiving, and we think that sounds plausible.) Either way, guess we need to start prepping for another royal baby.