The Royal Wedding II: Harry "Suits" Up is only 58 days away, and everyone has been busy getting ready. Meghan Markle was baptized and also kidnapped, Prince Harry has been dodging blood-thirsty ponies, and Lifetime released their teaser trailer for Harry & Meghan: A Royal Romance. And today, 600 of the luckiest people on the whole damn planet were sent royal wedding invitations that look like this: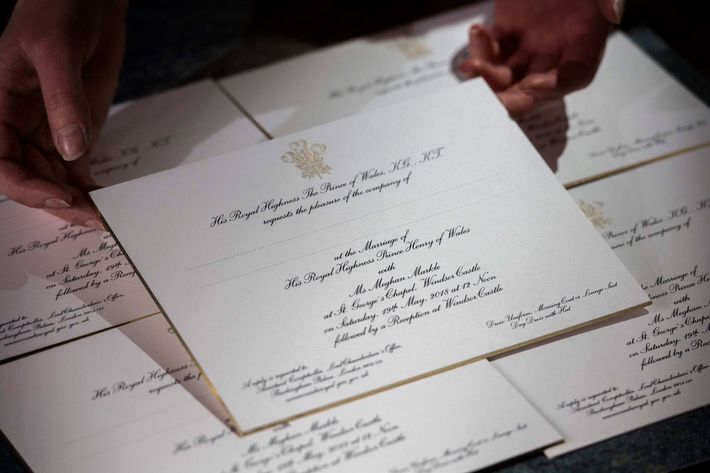 They're fine! Very on-brand for the traditionally sober, formal royal wedding invites. But I had kind of hoped former lifestyle blogger and calligrapher Meghan Markle might zhuzh them up a bit with a cool font or an interesting color scheme. (She and Harry did mix it up with a lemon elderflower cake instead of the traditional fruitcake, after all.) She's clearly trying to adhere to some royal traditions though, because everyone wants to keep their in-laws happy.
According to a press release from Kensington Palace, 600 people have been sent invites to the service and lunchtime reception, and 200 VIPs have been invited to a private reception at the Frogmore House.
The invitations were all produced by Lottie Small, a printer who recently completed her apprenticeship at the printing company Barnard & Westwood, and who told ITV she was "unbelievably excited" and "squealed a little bit" when she found out what she was making.
An exciting day for everyone. Well, almost everyone.