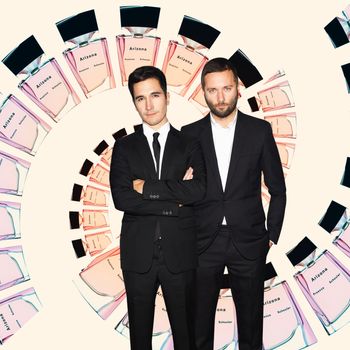 Photo-Illustration: Stevie Remsberg/Getty Images
Call it the Proust effect: Memories are best triggered by smells. Scientific studies confirm that out of all the senses, smells, and fragrance offer the best recall. Our new feature, Scent Memories, will ask its subjects to talk about the scents they associate with different emotions and thoughts. Proenza Schouler designers Jack McCollough and Lazaro Hernandez are up next, having just released their first perfume, Arizona. A fragrance inspired by the designers' wellness jaunts out West, it's a creamy floral with musk and orange blossom and the first-ever perfume to have a base of white cactus flower. The designers will also be doing an appearance at Saks Fifth Avenue on March 13 from 6:30–7:30 p.m. McCollough and Hernandez spoke to the Cut about their favorite scents including baby powder, New Mexico incense, and puppy love.
My first scent memory:
Lazaro Hernandez: The way my mom smells. She used to wear house robes or night gowns. She had a whole drawerful. They smelled powdery, and really pretty. I remember her holding me and smelling like that.
Jack McCollough: Me too, my parents. When my mom was getting ready, it was always Chanel No. 5. My dad would always wear Old Spice deodorant.
LH: Also the smell of crayons, that waxy smell? I remember loving that. It takes me back to kindergarten and discovering drawing for the first time.
JM: Or rubber cement. That was maybe more high school.
The smell I associate with love:
LH: It's a little cheesy but puppies. We just got two puppies, a Newfoundland and a miniature Doberland pinscher.
JM: We got one three months after the other. I don't recommend two puppies at the same time.
LH: What happened is that we had two dogs that died around the same time. They were basically in love and they died one or two months from each other and it was really traumatic. We are basically are trying to re-create it. But the smell of a puppy, that's love. It's so awesome.
Happiness smells like:
LH: The smell of the sun. Right when we got to Costa Rica, you could feel the Vitamin D, which was literally making you happy.
JM: Waking up early, being near the water.
Heartbreak or loss smells like:
LH: Nausea that's caused by feeling sad about something. Maybe the smell of whiskey.
Sunday morning smells like:
JM: The smell of home. I guess ours could smell like wet dog, maybe. Or uh, old food because we haven't been there in a couple weeks. It's earthy and woody.
LH: If it's Sunday in the country, a big roaring fireplace and burning wood. We have a lot of plants and incense. We burn a cedar incense — I order it from this place in New Mexico. It's called Cedar Light.
There's also this incense we got in Bhutan. All the Buddhist temples and monasteries burn this incense. It smells like heaven. We brought it back.
JM: Smelling that incense reminds me of the whole trip. We were trekking in the Himalayas and going to all these temples in the mountains. To re-create that smell at home is pretty amazing, it takes you back to that headspace.
If I could have one scent on my hands forever:
LH: Well, I guess it would have to be the smell of you.
JM: Aww. How sweet. Now I guess I have to say him or else I'm an asshole. The smell of Lazaro on my hands.
I smell like:
JM: I don't usually wear fragrances because I like to experience them around me. I like to be sort of neutral. I think clean laundry.
LH: More powdery, I think. Growing up, it's very Cuban to douse your babies in baby powder. It's a Spanish thing to do to your children. It keeps them cozy and dry. Maybe it's an anti-chafing thing. But babies always smell like powder in Spain, it has a silky feeling, kind-of. My mom gives me the old-school powder.
If you buy something through our links, New York may earn an affiliate commission.