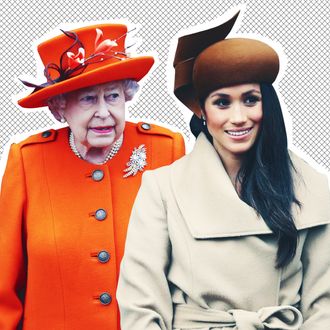 Queen Elizabeth and Meghan Markle.
Photo: Getty Images
As someone who has watched all two (2) seasons of The Crown, I am all-too well aware those closest in line to the British throne must receive approval from Queen Elizabeth before they're allowed to marry. So, it was with bated breath that I waited to hear if the queen was cool with Prince Harry marrying Meghan Markle. And now, the wait is over: the queen issued an official decree allowing the royal wedding to go down.
On Wednesday, during a Privy Council meeting (idk) at Buckingham Palace, the train-riding queen officially declared the Royal Wedding 2.0 good to go (thank god). Per E! News, the decree reads:
"My Lords, I declare My Consent to a Contract of Matrimony between My Most Dearly Beloved Grandson Prince Henry Charles Albert David of Wales and Rachel Meghan, which Consent I am causing to be signified under the Great Seal and to be entered in the Books of the Privy Council."
Of course, I'm not surprised to hear that Queen Elizabeth approves of Markle. After all, the queen allowed the Suits star to attend her Sandringham Christmas celebration before she was even married into the royal family (which basically never happens) and the soon-to-be-married couple also sat right behind the queen during the recent Commonwealth Day service.
But still, it's a relief to know that nothing is left standing in the way of the most important day of my life — the Royal Wedding 2.0 — especially given what happened with Princess Margaret and Peter Townsend on The Crown (tragic).