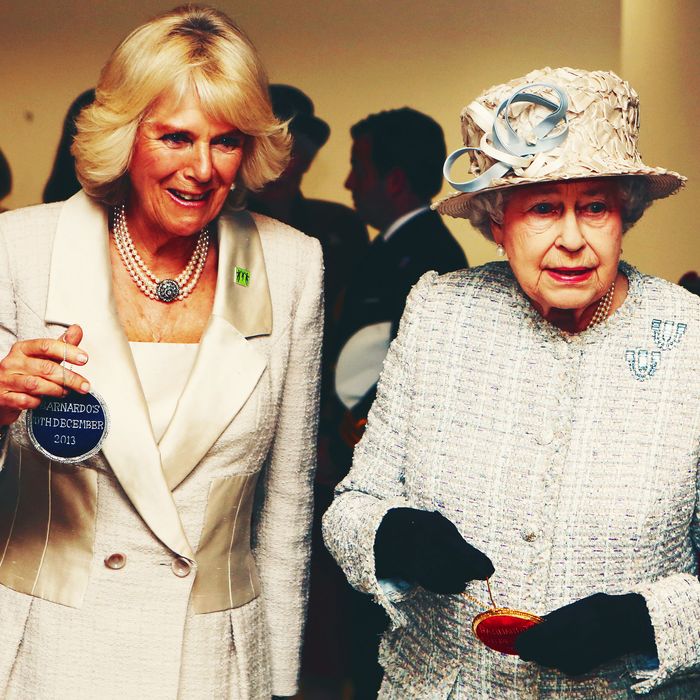 Frenemies.
Photo: Chris Radburn-WPA Pool/Getty Images
Queens: They're just like us! They ride trains, have bra troubles, and after a few cocktails, they say hurtful things about their in-laws.
According to People, in an extract of his new biography of Prince Charles published in the Daily Mail on Tuesday, British journalist Tom Bower claims that Queen Elizabeth vehemently disapproved of her son's affair with Camilla Parker Bowles during his marriage to Princess Diana, and was reluctant to welcome her into the royal family following Diana's death in 1997.
At the urging of Camilla and his aunt, Princess Margaret, Prince Charles approached his mother in the summer of 1998 to discuss the situation. But according to Bower's account, the Queen was already a few drinks deep that night, and the conversation went, uh, poorly. Per the Daily Mail:
He asked that she soften her antagonism so he could live openly with Camilla. His hope was that the Queen, who rarely interfered, would at least not directly forbid it.




But on that evening she'd had several martinis, and to Charles's surprise she replied forcefully: she would not condone his adultery, nor forgive Camilla for not leaving Charles alone to allow his marriage to recover.




She vented her anger that he had lied about his relationship with what she called 'that wicked woman', and added: 'I want nothing to do with her.'
Prince Charles then reportedly called Camilla crying, but everything's fine now because they married in 2005. The Queen also seems to have made peace with Camilla, because the pair were seen "chatting enthusiastically" at the 2015 Windsor Horse Show, as pals do.
How accurate is Bower's account? It's difficult to say, as the royal family is notoriously private. In any case, at least we know the Queen approves of the People's Princess, Meghan Markle.