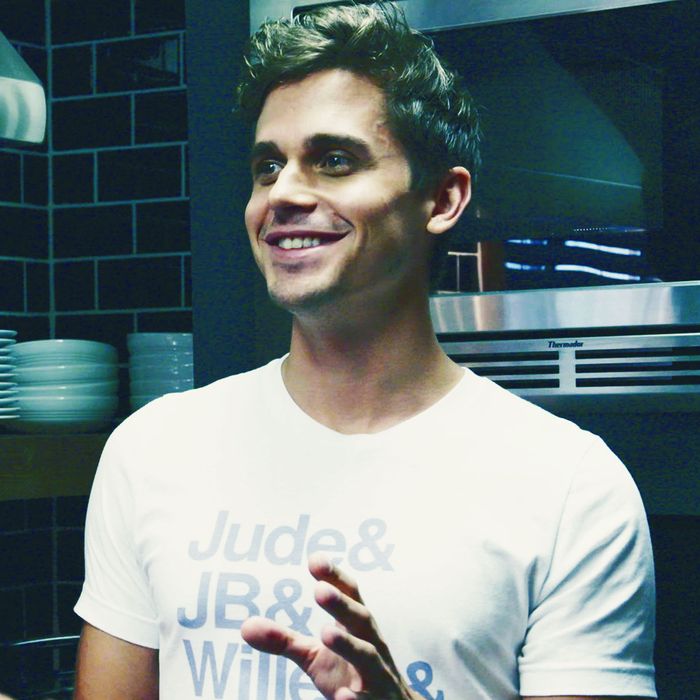 Antoni Porowski.
Photo: Courtesy of Netflix/Courtesy of Netflix
Less than 15 minutes into Netflix's Queer Eye for the Straight Guy reboot, which premiered in February, viewers are confronted with the full effect of Antoni Porowski's upper half. The 33-year-old Polish-Canadian actor-turned-chef-actor takes off his denim jacket to reveal a T-shirt that reads "Unsigned" — a less-than-subtle reference to the fact that he's beautiful enough to be a model.
Porowski flaunts this top while explaining to the show's first makeover subject, Tom "You Can't Fix Ugly" Jackson, how he can eat better. (Answer: Avocados. The answer is always avocados.) In this context, Porowski's shirt serves as motivation ("You, too, can be beautiful") as well as a reality check ("But you'll never be as beautiful as me"). In sum, it's perfectly on-brand for a Queer Eye star.
Porowski told Vulture that when he signed up for Queer Eye, he was told that he was going to be the "New York City" guy. "You're jeans and T-shirts," the creators said, in so many words. Porowski's response? "Great, T-shirts are all I fucking wear anyway."
It's true: Antoni Porowski loves a graphic T-shirt. Below, we ranked his many tops from best to worst.
1 . That Custom James Dean Shirt
We're not 100 percent sure what "James Dean Speed Queen" implies in this context (something about James Dean riding a motorcycle?) but we like it. Per Porowski's Instagram, this shirt was custom-made by the New York–based artist James Concannon, who's created a handful of shirts for the Queer Eye star — including one referencing early-'90s heartthrob River Phoenix. Notice a pattern here?
2. That "Unsigned" Shirt
This is a perfectly executed not-so-humble humblebrag. Graphic T-shirts are meant for flexing, in every sense of the word. Porowski knows this — and that he's beautiful to look at — even when he's wearing a headband and Tom "You Can't Fix Ugly" Jackson's "ugly car shirt."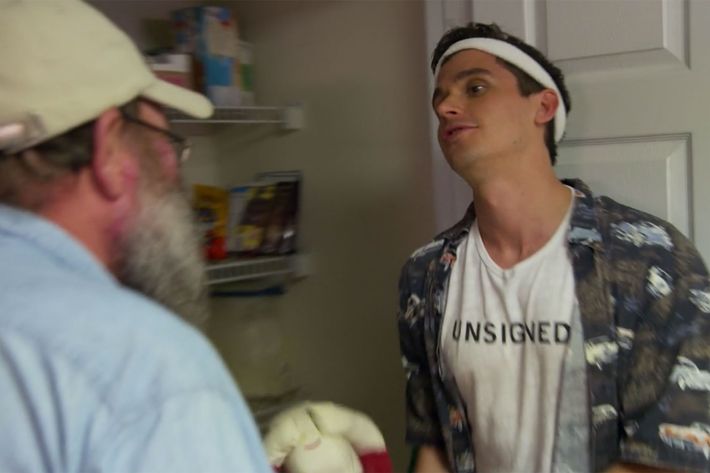 3. That "Dream On" Sweatshirt
Again, Porowski's upper body is a billboard for his inner confidence. His tight-fitting "dream on" sweatshirt not only assumes that you're attracted to him, but also that you're not good enough to receive his affection in return. Which is, honestly, fair. [Side-note: Is this the same font as Porowski's "unsigned" shirt? Were these made in a batch Zazzle order? We wouldn't put it past our graphic tee god.]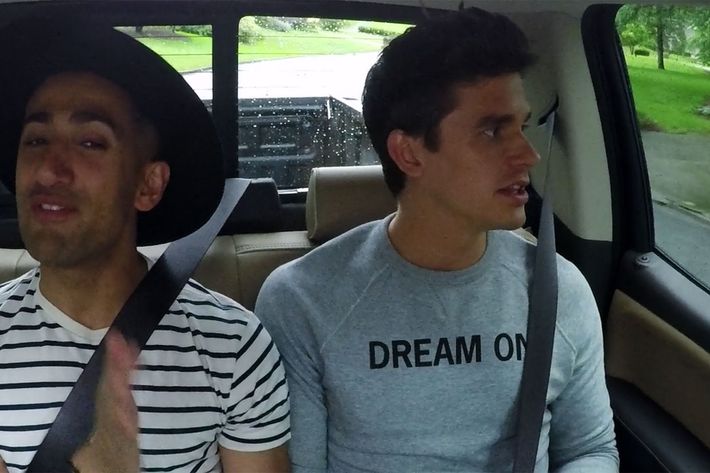 4. Those A Little Life Shirts
Here we see Porowski's sensitive side. A Little Life is Hanya Yanagihara's 2015 novel about male friendship and love, and Antoni wears not one, but two A Little Life shirts on camera. Plus, he's got tote bags. "Her book has such an important place in my life," Porowski told Vulture of his A.L.L. obsession. "At the end of the day, it's a story about showing up for somebody who doesn't even believe in themselves," he adds. "Which is exactly what we do on the show." No, you're crying!
P.S. You can find a custom Queer Eye version of these shirts here.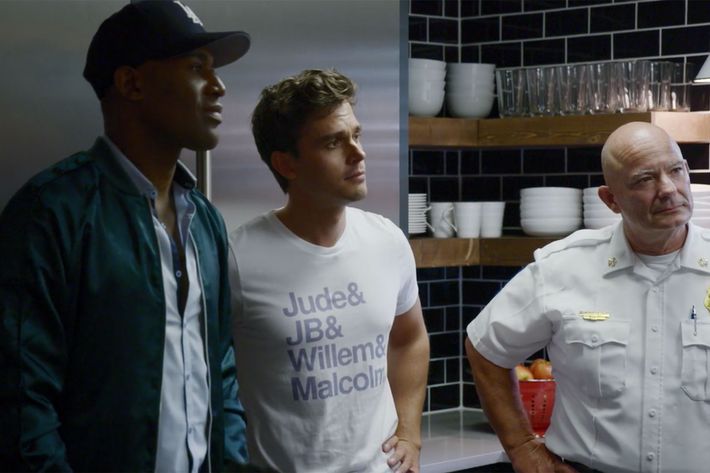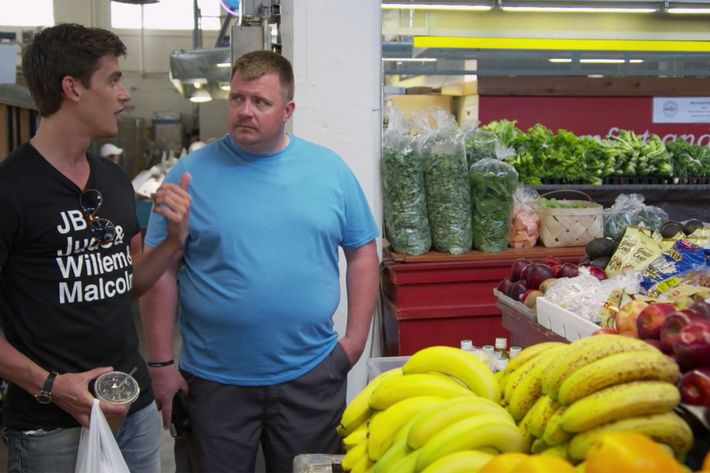 5. All That Indie-Rock Merch
The Strokes and the National are among Porowski's "favorite" bands (Arcade Fire not pictured), but in order to wear them on the show, Netflix had to get permission from the performers themselves. The Strokes manager came back with the go-ahead, but informed Porowski that the shirts he owned were fakes. So, Porowski got a bunch of free swag … which he then cut the sleeves off of to show off his muscles. Porowski gets points in our book for consistent taste in music, however, we think he could use a more adventurous playlist.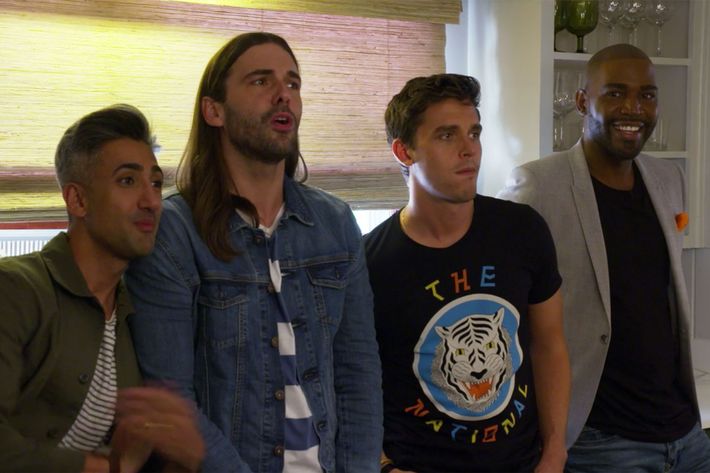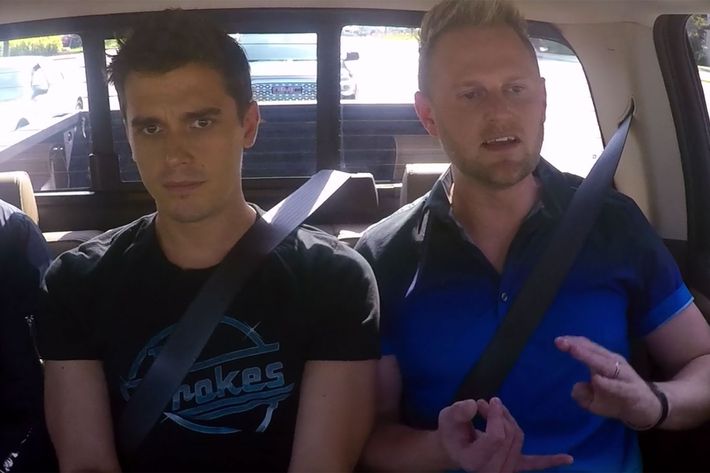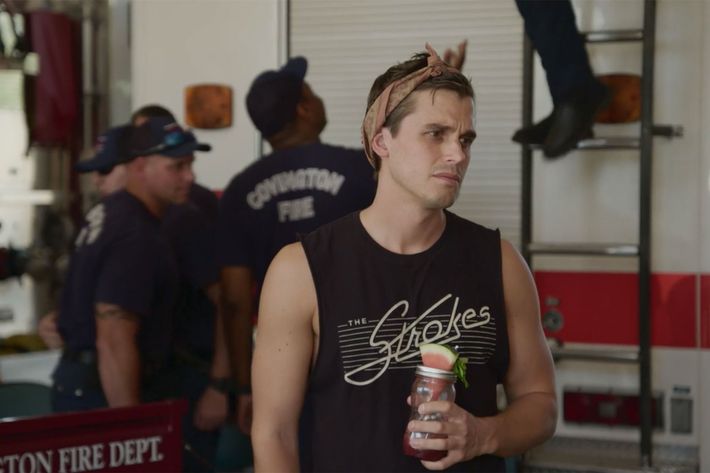 Honorable Mention: Shirtless Antoni
It felt wrong to leave out Porowski's other favorite look: no shirt at all. His tees are unrivaled on Queer Eye, but maybe next season he could do a little less? What do you think?