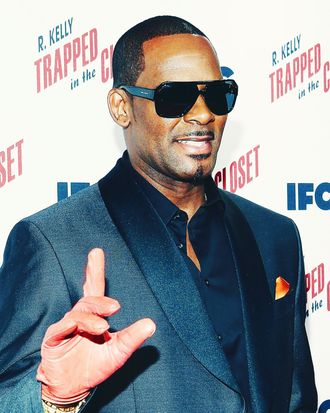 R.Kelly.
Photo: John Lamparski/WireImage
In an upcoming BBC documentary, R. Kelly's ex-girlfriend accuses the R&B singer and alleged sexual predator of "training" a 14-year-old girl to be a sex slave, the Guardian reports.
This is the most recent accusation against R. Kelly, whose alleged sex crimes first came under major public scrutiny months before the current #MeToo movement. The second half of 2017 saw a number of explosive investigations into his alleged abuse — one about a "cult" he runs that preys on young women, one about the singer's inner circle, and another about the alleged physical and emotional abuse that ex-girlfriend Kitti Jones suffered while she was with the R&B singer. During this time, there was an additional woman who accused R. Kelly of grooming her to be a sex slave when she was 16.
Jones is the woman behind the most recent allegation. The Guardian reports that in the documentary, Jones says that the R&B singer introduced her to an unnamed young "sex slave" sometime between 2011 and 2013.
"I was introduced to one of the girls, that he told me he 'trained' since she was 14, those were his words," she said. "I saw that she was dressed like me, that she was saying the things I'd say and her mannerisms were like mine. That's when it clicked in my head that he had been grooming me to become one of his pets. He calls them his pets."
Jones also said that Kelly forced the young girl, whom he referred to as his "fucking pet," to crawl around the floor and perform oral sex on him.
While Kelly did not comment to either the BBC or the Guardian, the R&B singer has vehemently denied all allegations against him in the past. The BBC Three documentary is scheduled to air on March 28.