Getting to Chinatown's Candy Studios requires climbing five flights of stairs. And as various members of Roxanne Shante's small team arrive, each one has the same reaction to the unexpected cardio: the mouth opens slightly with exhaustion, the eyes roll up toward the heavens, and, at the top, once they've caught their breath, everyone complains about the five flights of stairs. Everyone except Shante herself. Even though she makes the climb in heels, she arrives at the top with a beatific smile and no complaints. She just catches her breath, gets her edges touched up, and sits for a few photos.
In between photos, Shante, 48, grabs a cranberry juice and sits across from me at a small table in the studio. She touches my knee — she's quick to forge connection — and tells me that today, on the Tuesday morning that we meet, she's nothing but light and positive energy and warm radiating love. (It's true. I feel it. Her hand is on my knee.) The night before, she attended the premiere for the Netflix biopic about her life, Roxanne, Roxanne. As the film's executive producer, she got to work closely with Mahershala Ali ("He smells so good! I mean, I'm married to a wonderful man but I had to throw that in there"); the movie won a Jury prize (for Chante Adams, in the title role) at Sundance this year. What's five flights of stairs when you're in the middle of collecting 30 years worth of recognition IOU's from the public and music industry?
In 1984, Lolita Shante Gooden heard U.T.F.O's "Roxanne, Roxanne," a song all about a "stuck-up" woman who won't return U.T.F.O.'s advances, no matter how hard they try. Shante, who was 14, wrote a response track called "Roxanne's Revenge," from the P.O.V of the Roxanne in the song. (She also changed her own name from Lolita Shante to Roxanne Shante.) The song became a radio hit, and while she was still in braces, Shante had established her place in hip-hop history as the first female solo rap artist. By her mid-20s, she'd left the music industry to take care of her family — after that, nobody really knew her story, she tells me, nobody really wanted to tell it.
That all changed 2016. One night she was hosting an event in Philly — she makes a living in part through DJing and hosting — when two women started waving at her in the booth, asking if they could come talk to her. Those woman turned out to be Mimi Valdes and Nina Yang Bongiovi (who produced Dope and Fruitvale Station), and they told her they wanted to make a movie about her life.
"I was like, Damn! These drinks are strong," Shante recalls. "But you get a certain feeling, a certain vibe from women, from your sisters — you can feel the sincerity and then they make it happen." She decided to meet them for breakfast the next day. Valdes and Bongiovi came with a plan, an outline, financing; all you have to do, they told her, is tell us your story. So she met up with writer and director Michael Larnell and started telling him everything.
Shante's favorite scene in the movie is the very first one. She's about to hop into a rap battle, and she asks her mom, "Mom, can I curse?" Her mom says, "I don't care what you do. Just make sure you win that 50 dollars." (She did.)
"Actually," Shante tells me, "In real life, her words were, Look, I don't give a fuck what you did. We caught the bus here. We're leaving here with this motherfuckin 50 dollars. She was the first momager."
Shante was born in Queens and realized she could rap when she was 9. She saw Nipsey Russell rhyme all of his answers on Hollywood Squares and she thought, "I can do that. Like, I really can do that." She never doubted her ability to do it again.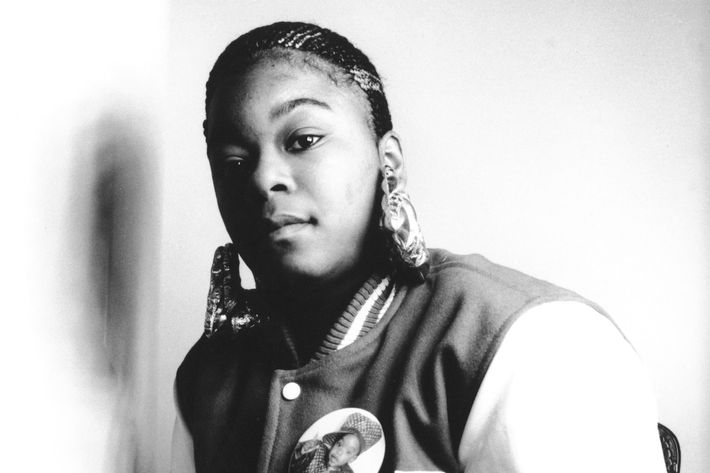 By 14, she'd hit it big with the aforementioned "Roxanne's Revenge." The track finds her abilities on full display: she's clever, she's bombastically confident ("I have the freshest rhymes that I do recite"), she's putting grown men in their place.According to lore,  she recorded it in one take. But as Roxanne, Roxanne depicts, early success rarely guarantees an easy road. The movie shows everything that happens after her initial pop of fame and success: her difficult relationship with her mother, career mismanagement at the hands of several men in her life (particularly an older boyfriend, played by Ali, who abused her), and her struggles as a teen mom.
These were some of the hardest scenes to watch, Shante says. As an EP, she was on set every day except for one: She could only manage a half day while they filmed scenes of her abuse. "I kept looking at little Shante going through that and felt like I needed to help her this time around," Shante recalls. "I would yell CUT! And they were like Hold on, listen. These cuts cost. That scene was rough."
These are the stories she'd tell Larnell over walks in the park and lunches — the tough stuff she never told anyone. "I felt so bad because he would walk away with the weight of the world on his shoulders, and I'd walk away feeling like, Ooo, I'm glad I told that to somebody. It felt very therapeutic. It did. It felt very therapeutic. It put me in such a great place!"
In the end, Shante's only complaint about her depiction was this: "I did one time say to her, Wop harder! You've gotta put more of your back into the wop. If you're gonna wop like me, you've gotta wop. Especially at that age. Right now, this age, you know, I'm wopping a little stiffer than I used to, but baby, at 14, that ponytail was swinging from side to side like a pendulum. Like, boom, boom, boom, boom, whipping that thing side to side, Oh yeah, I was killing."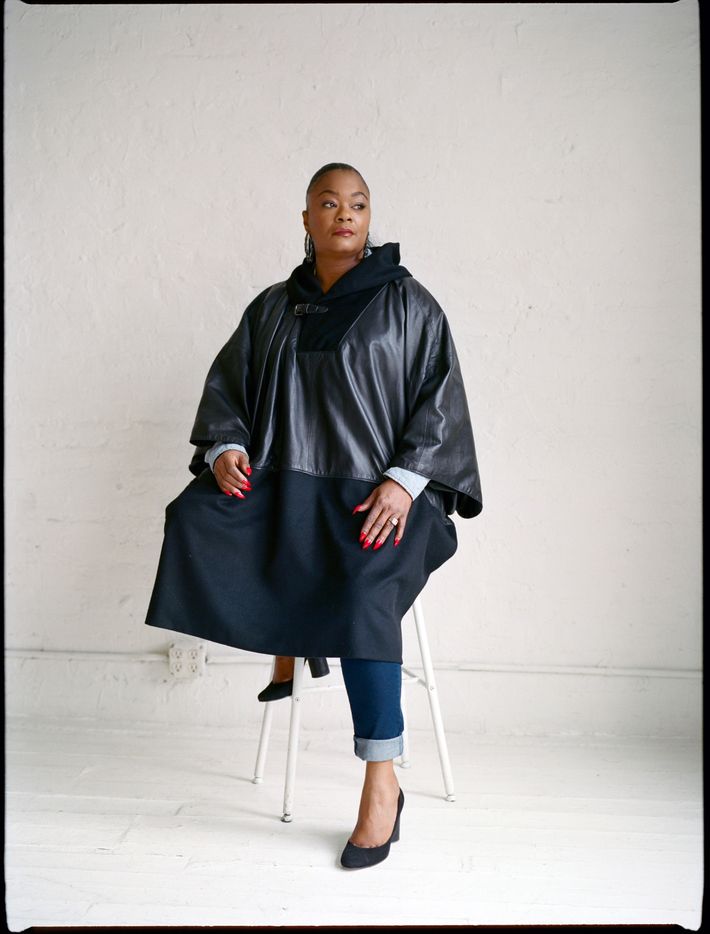 For a long time, Roxanne Shante had been reduced to a quick parenthetical mention in stories about other female rappers and what they — Queen Latifah, Lil' Kim, Nicki Minaj, Remy Ma, Cardi B — owe to her, their forebear.
I ask her why she thinks it's been hard to find greater recognition. Some of it has to do with the fact that she represented things people didn't want to see succeed, she explains: the group home girl, the runaway, the girl who dated older men, the teen mom. But mostly, she says she left the music industry because it didn't seem financially lucrative and she had a family to take care of. At the time, everyone was sure that "hipppity-hop bullshit would be over in ten years," she explains. She doesn't blame anybody.
If I were her, I imagine I'd have a chip on my shoulder or harbor some sort of resentment for what I was denied and what others had gotten.  Not Shante, though.
"You know what it is?," she says of how she has stayed positive. "I'm an empath. Because of that, you don't really concentrate so much on your own feelings as you would the feelings of others and how other people feel. Could I have had a lot more if I wasn't so unselfish? Or if I wasn't so giving? Absolutely. I think we all would have more if we didn't share what we had and everything else. But then, what fun is that? What type of living is that? I could never have appreciated a movie like this if I didn't live the life I lived. I could never have appreciated the fact that people love me now if they didn't love to hate me before."
Shante says some of her peace has to do with a bout with breast cancer in 2009, which made her see things differently. And what she calls her "New York" relationship to God has always gotten her through: "People pray on the subway more than they do in churches here," she explains.
There's also her hustle — she still performs and DJs and hosts. She started a nonprofit organization for troubled teenagers called Mind Over Matter, where she leads by example. ("I came out okay.") She doesn't want to record her own music, but can see herself releasing an album called Roxanne Shante Presents to showcase artists she works with — women who she coaches in the business so they don't go through what she did. She'd also like to write a book and host a podcast.
But what really keeps her going every day is music. When she gets a check, she plays Biggie. When she cleans the house, it's old school hip-hop. When she's stuck in traffic, Cardi B and Migos. But there's one song she sings to herself every day, and it's not her own song, "Roxanne's Revenge," that gases her up in the morning. It's "Native New Yorker," by Odyssey.
"I get up in the morning like" — and she starts signing — "You grew up 'riding the subways … talking that street talk … Up in Harlem, down on Broadway, I'm no tramp, but shit I'm no lady. Then you hear that push and it's like, You are Roxanne! You are that!'" She says to the beat, ponytail swishing back and forth like a metronome. "And then I'm like 'Yeah, I am Roxanne!' That's what it is!"