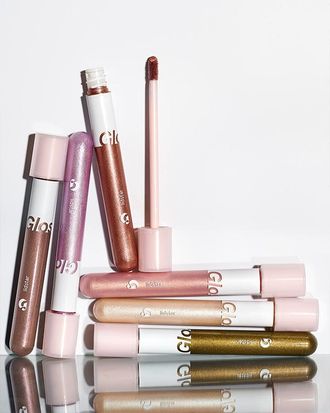 Glossier's new eye shadow, Lidstar, had a dramatic launch. First, Beyoncé wore it to the Roc Nation pre-Grammys brunch, and then a bunch of other celebrities sported it at the Oscars. When it was finally released, it immediately began trending, as Glossier products tend to do. But are the creamy pearlescent shadows actually any good?
Glossier recommends swiping on the product with the doe-foot applicator and blending it out with your finger for a "wash of soft, glistening color." Allegedly, you won't need any extra tools or products to make it last for 12 hours without creasing, smudging, or fading. Since the Cut is filled with obsessive testers, we put Lidstar to the test. Read on for reviews by four staffers.
Daise Bedolla, Social-Media Editor
I swatched Cub, a rose-gold shade, on my hand before actually testing it on my eyes. The first thing I noticed was how quickly it dries. Even after washing my hands several times, the color didn't budge.
I've been on the hunt for the perfect rose-gold shadow — intense and glittery, preferably cream-based — but Cub is far more subdued than you'd guess from looking at the tube, which makes sense since the brand describes them as "enhancers." The shadows are intended to be buildable, but even after three swipes on my eyes, I didn't get the intensity I wanted or reach the color you see on the tube. And when I took a selfie, you could barely see it.
You definitely have to move fast to blend it (and blend a lot) since it dries so quickly. I would recommend using a primer, despite what the brand says. After a couple of hours, I saw a light crease. Removing it was surprisingly easy (I use Simple Skincare Makeup Remover) and took about two swipes with a cotton pad to get it all off. I'm not sure that I would use this color again, but I'd be interested in seeing how the darker colors like Fawn or Herb fare on my skin.
Anna Silman, Senior Culture Writer
While I liked this millennial-purple hue, I found the Lidstar difficult to apply evenly. I actually preferred how it looked when I applied it straight along my lash line, like a swoop of sparkly eyeliner. But once I blended it across my whole lid, the glitter coagulated in some areas and not others, and the gooey texture didn't adhere well to my naturally oily eyelids. By the end of the evening, I barely had to remove it because it had pretty much all melted off.
Also, after I put it on, my boyfriend told me that this made it look like there was a lot of "extra skin" on my eyelids. Maybe he's just not used to seeing me in eye shadow, but I don't think that's a good sign.
I'm a very pale person, and Lidstar's lightest shade, Moon, barely showed up on my eyelids (and not at all in pictures). It spread unevenly and seemed more like a highlighter than an eye shadow — shiny and glittery, but not at all pigmented. It also got stuck in the crease of my (admittedly greasy) eyelids. Though it was a bust on my "Why, yes, I am Irish" skin, I do think it'd look nice on people with skin tones darker than mine.
Allison P. Davis, Senior Culture Writer
Like most women, all I want to do is be a little bit more like Beyoncé. When I found out she wore Glossier's Lidstar to the Grammys, I was floored. I can't pull off that leather beret, but as a pretty die-hard Glossier-product user, I felt certain I could apply a metallic eye shadow and call myself Queen Bey (in my mirror, to myself).
I chose Herb, both for the pretty green-gold hue and because it shared a name with the only thing I love more than Beyoncé's cover of the Prince song "The Beautiful Ones." First off, I must say that I love the packaging. It's like a little test-tube shot (another thing I love) and unlike an eye-shadow palette, it's easy to throw in a bag to apply, should you be going to a party or a Beyoncé-related event after work. I also liked the cream texture; it lasted a long time and didn't feel particularly heavy.
That, sadly, is the only thing I really liked about this product. Despite the seemingly easy-to-use applicator, I found the product really hard to get right. Too little, and you couldn't see the shade on my brown skin at all. Too much, and my eyelids looked ashy — did you know that you have to worry about ashy eyelids? Now I do. Overall, the color wasn't flattering, no matter how many different ways I applied it. The best solution I found was to use it as a thick, jazzy eyeliner, but still, I've never felt farther from being Beyoncé in my life — even when I gave up on 22 days vegan on day 1.
If you buy something through our links, New York may earn an affiliate commission.