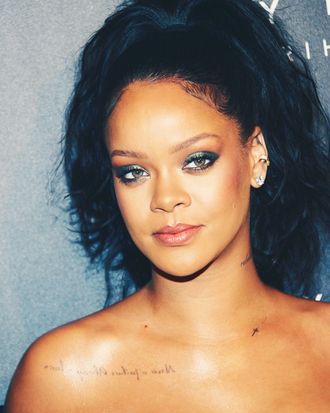 Rihanna.
Photo: Stephane Cardinale/Corbis via Getty Images
Throughout fashion month, there have been whispers of a Rihanna debuting a lingerie line, but no confirmation. Her presence was sorely missed this season, as there was a gaping, Fenty x Puma–sized hole in the official runway show calendar.
On Tuesday, however, WWD reported from a source that the pop star and style icon has been working with TechStyle Fashion Group for over a year now on a lingerie line, and that samples have already been produced.
According to WWD, neither a publicist for Rihanna nor Shawn Gold, TechStyle corporate marketing officer, would comment on the deal. Needless to say, we really, really hope it's happening.
TechStyle Fashion Group has a history of pairing celebrities its various brands. Kate Hudson, for example, "co-founded" Fabletics. Kim Kardashian West "co-founded" ShoeDazzle. And Kimora Lee Simmons once held the president title at JustFab. (These names!) According to WWD's source, a lingerie line with Rihanna would put the company in a good position to file for an initial public offering, which its executives have broached as a strategy in the past.
Let's imagine what Rihanna lingerie would look like, though. She's already designed socks, which feature some of her most memorable looks. But while we wholeheartedly love Rihanna, we're not sure we want to wear her face on our bottoms. In fact, that would be rude to Rihanna.
No, what we want from Rihanna lingerie is some glorious combination of "Rihanna Goes to Carnival" and "Rihanna Leaves Drake's House in His Tuxedo Shirt." In other words, high to low. "Love on the Brain" to "James Joint."