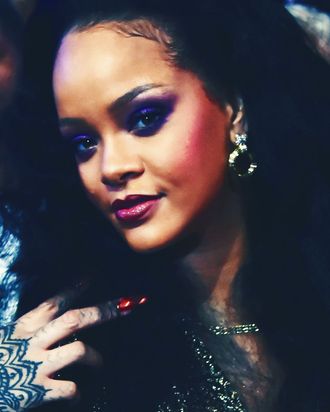 Rihanna.
Photo: Kevin Mazur/Getty Images for NARAS
Fenty Beauty is finally venturing into the world of body beauty with an ultra-alluring product called "Body Lava": a shimmery full-body luminizer that Rihanna was seen sensually rubbing into her shoulders on her Instagram story earlier today.
On her story, Rih teased two different shades that the body highlighter will come in and claimed that both of her bottles were nearly empty. And while her story will expire by tomorrow afternoon, the Instagram account Rihanna Daily posted Rih's story to their Instagram to preserve the sexy vids:
It's unclear when the product will launch or how much it'll cost, as neither Rihanna or Fenty Beauty have released any details. Guess we'll just have keep rubbing our collarbones with the Dirty Thirty highlighter Fenty dropped for Rih's birthday in the meantime.