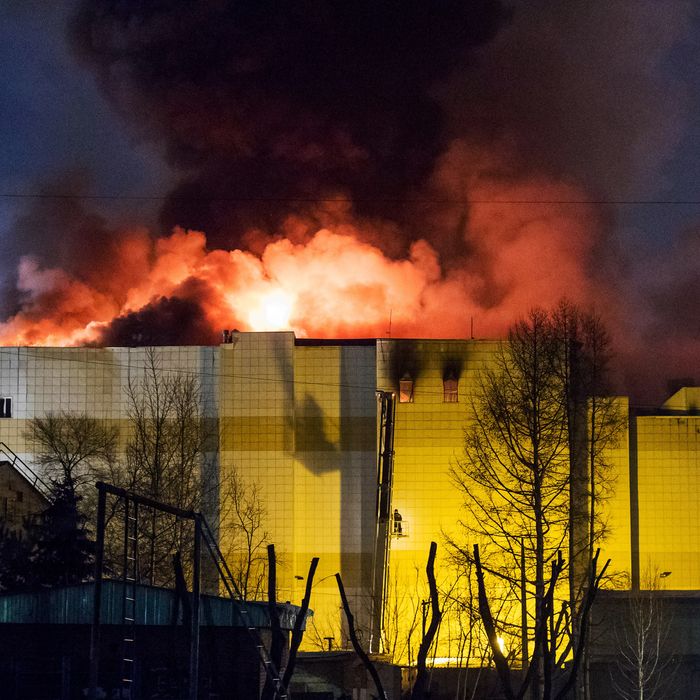 Shopping center in Kemerovo.
Photo: Danil Aikin/TASS via Getty Images
Russian authorities have launched an investigation into a fire at the Winter Cherry mall in Kemerovo, a coal-mining city in Siberia, that left at least 64 people dead, and 16 missing, the BBC reports. Preliminary reports indicate many of the victims were children.
According to the Investigative Committee, when the fire broke out on Sunday, there was no alarm to alert shoppers because a fire-safety technician at the mall had switched off the alarm system. In addition, several exits were blocked, trapping people inside.
"The lights didn't come on in there to help us escape. We got out by following the floor lighting. But at that point no alarm bells were ringing. I only heard an alarm when I reached the first floor," one woman told the BBC.
Though the cause of the fire has not yet been confirmed, Vladimir Chernov, the region's deputy governor, was quoted as saying, "The preliminary suspicion is that a child had a cigarette lighter which ignited foam rubber in this trampoline room, and it erupted like gunpowder."
The national broadcaster Rossiya 24 TV, however, said the inferno was the result of an electrical fire.
Winter Cherry was a popular entertainment spot for the children of Kemerovo, NBC reports, and featured an indoor skating rink, a petting zoo, and a trampoline room. Two hundred animals from the petting zoo also died in the fire, authorities said.
Officials are currently questioning four individuals in connection with the fire, including two fire-safety officials, and the shopping center's technical director.