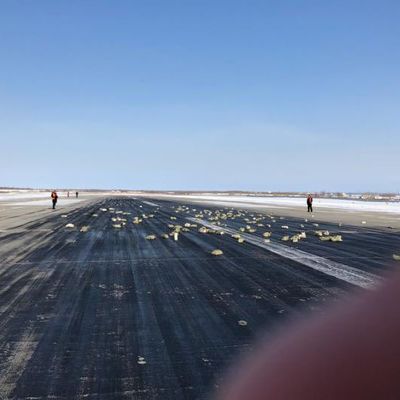 Ooh la la!
Photo: Yakutia Media
This week, a Russian AN-12 transport plane made the kind of lavish, theatrical exit most daytime soap-opera starlets can only dream of.
The aircraft in question belonged to the private mining company Chukotka Mining and Geological Co., and was carrying nine tons of doré bars — a semi-pure alloy of gold and silver — worth $368 million. When it took off from the Yakutsk Airport in eastern Siberia on Thursday, strong winds ripped the plane's hatch door off, and a third of its precious cargo rained down onto the runway. How chic!
Realizing the bars had fallen out, the crew immediately landed at another airport nearby, and returned to gather the fallen gold.
An internal investigation is currently under way to determine the cause of the accident. Experts have not commented on whether the plane dramatically spilled the gold after its long-lost twin woke up from a coma and threatened to reveal a terrible secret that would tear their whole town apart.