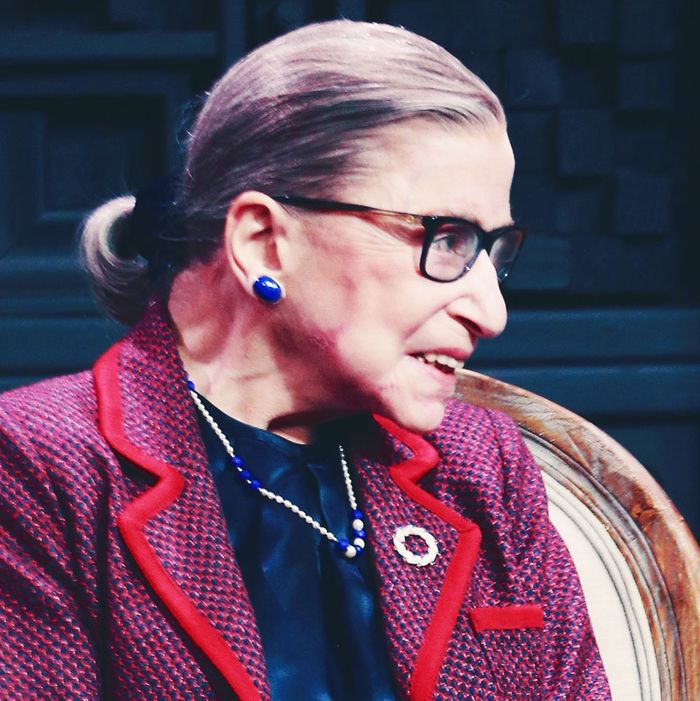 Ruth Bader Ginsburg.
Photo: Robin Marchant/Getty Images
More than one woman could pen a memoir called The Scrunchie Chronicles. Justice Ruth Bader Ginsburg has been a wearer of collars, gloves, and scrunchies for years. In a piece about her favorite cushiony hair ties for the WSJ, the 85-year-old clarified that it's never been a trend for her. "My scrunchie collection is not as large as my collar and glove collections, but scrunchies are catching up."
Like a true discerning collector, the most mature Supreme Court member knows that scrunchie quality matters and not all scrunchies are equally made. In fact, she has favorite scrunchie-shopping cities — and will not hesitate to travel for a good one. "My best scrunchies come from Zurich. Next best, London, and third best, Rome," she told the newspaper.
Congratulations to Switzerland on creating a masterful and sturdy hair accessory that navigates the fine balance between cloth and elastic (and it's a relief that Paris isn't continuing to win every beauty honor). It's nice to see that scrunchies exist outside of Perry Street. May the 107th Supreme Court Justice's collection ever multiply and be fruitful to include "dissent" scrunchies and "majority opinion" ones too. Maybe the new ones in silk would be great for "striking things down."