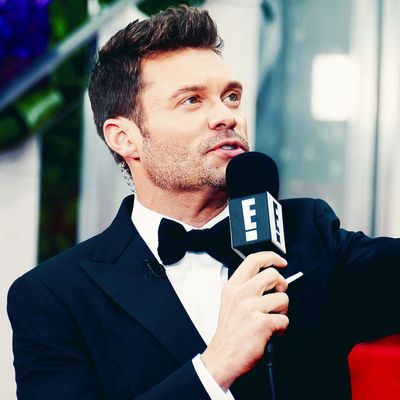 Photo: Kevork Djansezian/NBC/Getty Images
The grand finale to what's already been an uncomfortable awards season for E! will air this Sunday, when Ryan Seacrest hosts the Oscars red-carpet preshow, despite detailed allegations published this week that he sexually assaulted a former stylist.
Though Seacrest reiterated Tuesday there is no truth to the allegations, which first surfaced late last year, reports are emerging that publicists will either direct stars to talk to his co-host Giuliana Rancic or not talk to E! at all. Producers confirmed no interviews are booked in advance, so E! won't have any control over which celebrities talk to the network or what they say on-air. Perhaps worse for E!, the night is likely to once again expose the network's apparent inability to reckon with its own place in the #MeToo movement, even as they quite literally make a show of reporting on it.
The reemergence of the allegations against Seacrest is the latest in a string of stings to E!'s image. Over the past few months, the go-to network for women who want to watch celebrities walking red carpets before awards shows has faced considerable backlash. Debra Messing told E! live on its Golden Globes preshow that the network should pay hosts like recently departed Catt Sadler the same wage as their male counterparts. Sarah Jessica Parker and Eva Longoria reiterated her statement. Then there was that moment when producers cut to a pan of Dakota Johnson's Gucci dress when Michelle Williams's date, activist and #MeToo founder Tarana Burke, had the mic.
A former producer of E!'s red-carpet show told the Cut that E! "was trying to avoid commenting or reacting to" the comments made live on-air about Sadler at the Golden Globes, adding, "I know from people who were in the truck beds listening that they were just uncomfortable."
This source suspected part of E!'s problem is not knowing how to deal with being at the center of controversy, and, because they are so protective of their image, they fear publicly sympathizing with the #MeToo cause. "I know they're spinning over there and trying to figure out how to handle [the Seacrest allegations]," the source added, noting the many hours of prep that go into awards-show planning.
Another former E! employee told the Cut that Seacrest enjoyed a close relationship with E! executives that seemed to afford him special privileges, like an ability to work for other networks without onerous negotiations, that other talent did not: "Ryan's the golden boy of that network. They have fought very hard over the years to keep Ryan." This person called E! "a boys' club," where, even though the programming is all geared toward millennial women, it's still part of the corporate monolith that is NBCUniversal, which is mostly run by men. "He's the image of E!. He's the icon. He's the physical embodiment of, I guess, the perfect man to them." Sources described Seacrest as being adored by network executives because he's good at his job and has historically been seen as a great ambassador for the E! brand.
The Oscars, comprising eight and a half hours of live television, is arguably E!'s most important night of programming of the year, and Seacrest, as host, has been known as its face for years. The 2017 broadcast was the network's biggest live telecast of the year, with 4.4 million viewers, with tens of millions more consuming the content on E!'s website and social platforms. According to data from SQAD, which tracks media costs, the network is charging $35,000 to $41,000 for a 30-second ad spot during the Oscars preshow.
What may surprise viewers given all the gaffes that E! has endured this awards season is just how much preparation the network does for the Oscars. In January, a team of five or six writers and researchers begins scripting questions for the hosts. Seacrest and Rancic receive huge binders full of potential interview subjects and six or seven question ideas per person. They'll edit and study the questions, which will be handed to them on the carpet on cards as celebrities approach. A week before the Oscars, a writer flies to New York to work with Seacrest on questions so he's fully prepped for the broadcast. (Both Rancic and Seacrest declined to be interviewed for this story.)
Part of E!'s predicament is that they're going about business as usual even though the post-Weinstein entertainment industry has evolved. Their strict policies of avoidance – refusing to admit something wasn't right about how Sadler was treated, avoiding changing their lead host for the Oscars preshow — have only served to draw more attention to these stories, which E! wants so badly to go away.
What everyone but E! seems to realize is that the moments everyone remembers from the Golden Globes aren't Seacrest or Rancic looking shiny and asking questions that took months to write, but the world's most famous actresses calling them out. If E! doesn't want that to happen again, they'll have to take significant action to actually show women they understand what the #MeToo movement is all about. Their inability to grasp it just shows that, for all its progress, the fight for gender equality in Hollywood and beyond still has a long way to go.