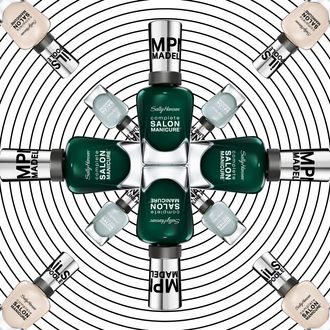 Photo: Courtesy of Sally Hansen
Instagram-famous manicurist Madeline Poole knows all about nails — her feed is filled with some of the best manicure inspiration. Poole has created everything from meticulous negative-space designs to funky nails adorned with three-dimensional charms — she even gave photographer Petra Collins a hypebeast-worthy Gucci pedicure and used nail art to deliver social-justice messaging. She has written a book about nail art and was named Sally Hansen's global color ambassador. Now, Poole is launching a polish collection inspired by the late '80s and early '90s, taking cues from her own childhood, including memories of the smell of her sister's hairspray, the red velvet interior of her family car, and her mom's aerobics-instructor-style leggings.
The limited-edition six-polish collection comes in vibrant neon colors with names that are just as fun. Material Pearl is a metallic light pink, Say It Lycra Mean It is a deep orange, Slime Scene is a predictable lime green, Mallratz is a hunter green, Vinyl Tap is a steel gray, and Call Me on My Shellphone is a mauve-tinted beige. Each bottle's cap will have Poole's MP logo wrapped around the side.
The polishes use Sally Hansen's Complete Salon Manicure formula, an editor favorite because it's chip-free for up to ten days. The brush and formula glide over nails without bubbles or streaks for an easy application each time. The only obstacle, as with all polishes, is sitting still while they dry.
The Sally Hansen Madeline Poole collection launches this month.