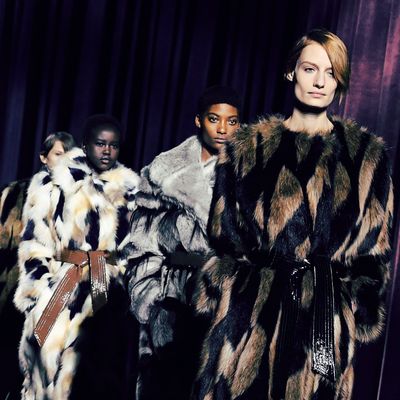 Models at Givenchy.
Photo: ALAIN JOCARD / Contributor/This content is subject to copyright.
Fur is quickly going out of fashion. The San Francisco Board of Supervisors ruled last night that they would ban selling new fur products within the city. It's the first major American city to enact such a ban, although some other places, including Berkeley, have similar limitations on selling new fur.
The ban will go into effect on January 1, 2019, and does not apply to secondhand items, sheepskin, or lambskin. Furriers and other stores can sell their current fur inventory until 2020. Supervisor Katy Tang, who pushed for the legislation, said, "There's no humane way to raise an animal to peel its skin off."
However, critics say that the ban will negatively affect businesses that rely on fur sales. According to The Hollywood Reporter, the city's Chamber of Commerce estimated that fur sales accounted for $40 million a year. The CEO of the Fur Information Council of America said in a statement that the ban on fur would lead to an increase of petroleum-based faux fur, which would "directly contradict the many positive environmental moves the SF city council has taken regarding plastics and Styrofoam."
Many fashion brands have recently eschewed fur for their collections, including Versace, Gucci, and Michael Kors. Gucci's CEO said, "It's not modern." But, since giant furry coats are very much in line with modern fashion, expect to see a lot more faux, even in San Francisco.