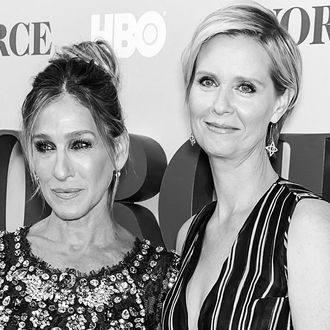 Sarah Jessica Parker and Cynthia Nixon.
Photo: Gilbert Carrasquillo/FilmMagic
Sarah Jessica Parker has officially endorsed her former Sex and the City co-star Cynthia Nixon's run for governor of New York.
Parker posted a picture of Nixon to Instagram on Thursday morning, calling her "a mother, an activist, an advocate, a fighter, a NY'er, a dear friend" and adding, "my sister on and off screen, you have my love, support and vote." This followed questions about how Parker, who's long supported Democratic candidates and causes, felt about this particular race; so far, she had only released a statement via a representative that said, "Cynthia has been my friend and colleague since we were little girls. I look forward to talking to her about her New York State gubernatorial bid."
Since Nixon announced her run last Monday, there has been a fair amount of speculation as to how the rest of the SATC cast would react. Kristen Davis (who played Charlotte) was the first to offer her endorsement, while David Eigenberg (Steve) and Lynn Cohen (Magda) followed with their support shortly after. Meanwhile, Kim Cattrall (Samantha) — who has been embroiled in a long-running feud with Parker — simply tweeted "I support & respect any former colleague's right to make their own career choices" when she was asked about Nixon's run.