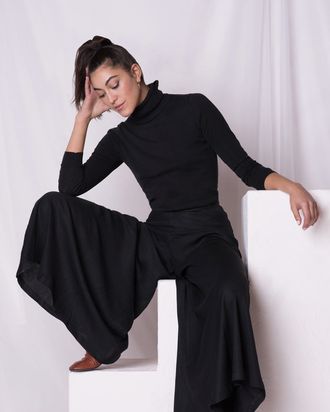 Staudinger.
Photo: George Augusto
"I always wanted to be in fashion, but I didn't know exactly what realm," says L.A.-based designer Sarah Staudinger, of the accessibly priced fashion label Staud. Staudinger got her start interning for Vogue and assisting various stylists before landing a job with eco-friendly brand Reformation, where she worked for about three years as fashion director.
Sensing a gap in the market, Staudinger left and set out to create her own label with business partner George Augusto, "for a different girl," one who "loves high-end luxury brands but isn't trying to spend an insane amount on something. She likes to mix high with low. [She] wants a piece that can last her a really long time."
The result was a line for women in search of easy-to-wear, loosely vintage-inspired pieces that endure season after season. Think: 1960s-inspired button-front dresses, perfectly-ruffled crop tops, and tie-waist jumpsuits. Meanwhile, Staud's famous Moreau bucket bags, which retail for $375, have become a hallmark of the brand. "We live by, in terms of accessories, the idea that a girl wants more than one bag for the season, and wants to change it with her outfit." Another current favorite is the clear PVC Shirley bag ($210), which sold out soon after its online debut.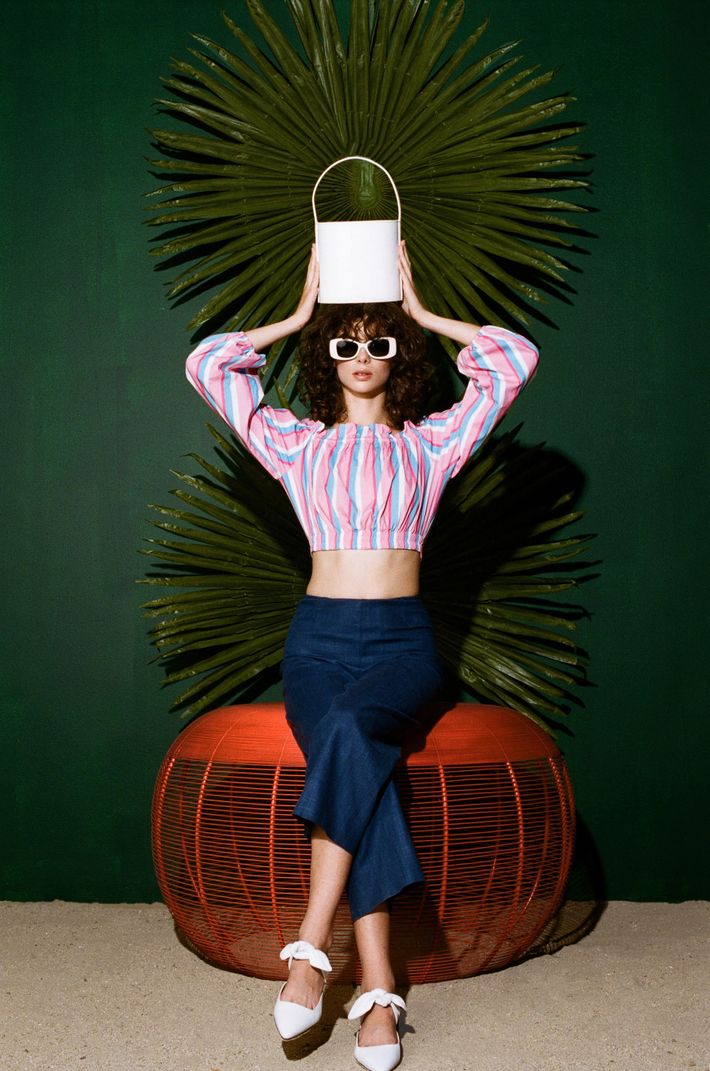 Below, the designer spoke to the Cut about her weakness for See's Candies, her fantasy vacation, and the guilty pleasure she can't put down. Read on for the full Q&A.
How do you thank people for a gift?
I would love to say that I hand write thank-you notes, but I don't do that. If it's an actual present, then I would probably call and say thank you. If it was a favor or something, I'd maybe send flowers.
Color or no color on your nails?
I wear polish, but no color. I do gels, normally a natural pink. If I were to wear a color, I guess it would be red — if I'm really flirty, I'll do an apple red.
Mood lighting or natural light?
Mood. Always.
What are some coffee-table books you'd be proud to display?
There's this Fellini-Sagan book that I love that's really hard to find. That's one of my favorites. There's a Bill Henson one that I really like. Alexander Girard: A Designer's Universe is really good. And Marcella Hazan's Essentials of Italian Cooking is one that is really cool to have on a coffee table.
Heels or flats?
Flats. My favorite flats are The Row's whiskey-colored loafers. I have really big feet. It's hard to find a lot of shoes in my size. I was just on vacation, and I was wearing the cute little Carrie Forbes straw slides. And I got these amazing Gucci platforms. They're technically flat because they're a platform — with multi-colored rhinestones — which I wore all through the holiday season. They were really fun and easy to walk on and comfortable and special.
Where did you go on vacation?
I went to St. Bart's for Christmas. Then, I went to Antarctica. It was the most incredible experience I've ever had. I was totally disconnected. It was just epic. You can't imagine what it looks like. It's crazy. The sun doesn't set. Beautiful icebergs. Penguins everywhere. It was truly magical. It was two and a half weeks with basically no Wi-Fi, no phone. You have to fly on a plane that lands on gravel or ice. Then we sailed through Antarctica. We basically did crazy hikes every day. Polar plunge. Swam. There's amazing whales; volcanoes. Just epic. It was definitely my fantasy vacation.
What would you never wear?
I can't answer that question because, literally, every time someone asks me, I give an answer. Then I start thinking about the answer, and then I end up wearing it. I used to say it was purple. Now my entire fall collection's purple.
What's a trend you do like right now?
Purple. Different shades of purple. I'm excited for it. I'm very sick of pink at this point. And I love color.
What's your favorite song on your playlist right now?
Wifisfuneral, "Tic Tac," is my most-listened-to song this week.
If you were a car, what kind of car would you be?
My favorite car is the 1972 Citroën. Probably either in black or pewter. My business partner has one and that's probably why I'm saying it, but it's stunning. The interior is a beautiful whiskey color. It's such a gorgeous car.
No makeup-makeup or actually no makeup?
The first one. YSL Touche Éclat for sure. I also use that Laneige [lip mask] stuff a lot. For a little bit more of a makeup look, I would do Marc Jacobs Dew Drops [highlighter]. I use Dr. PawPaw [tinted balm] on my lips and cheeks. I really love the Milk gloss, for the eyes. It's nice if you're not wearing anything really on your face during the day, to just do that and a little mascara.
What's your guilty pleasure?
I have a lot of them. I think I'm just going to say my worse one, which is the JUUL. It's a major issue. It's become an extension of my body. I'm happy that I don't know why it's bad for you.
What's the last show you binge-watched?
In Antarctica, I binge-watched Peaky Blinders. It's so good, and it's hard to find a good show to binge. I'm starting The Crown tonight. Also, the Versace show. Penelope Cruz and all of that.
What's your favorite … pair of jeans?
I love a Wrangler boot-cut. I get them at the Country General Store in the Valley, in L.A. They're so flattering. They suck you right in. They're really high-waisted. I love them. They're perfect.
T-shirt?
Classically, I love Petit Bateau. I've also been wearing a lot of Liana tees for a little more fun. I like a stripe a lot, and she has some great ones. She's also a good friend of mine and she lets me test new stuff that's coming out. She made a T-shirt dress that was really cute too.
Pajamas?
I usually sleep in the nude. I basically just wear Champion sweats and a sweatshirt around the house. But I got a really cute set from Journelle the other day, from Only Hearts. It's this little tank and matching underwear with heart prints that I love.
Flower?
Peonies. I love the color, the shape. They die really quick, which sucks, but I love them. I love hydrangeas too.
Chocolate?
Growing up, See's Candies were my mom's guilty pleasure. So I have this weird, crazy thing with See's Candies still. Every time I'm in an airport and I see one of those little See's stands, I'll definitely buy a box. It's actually really dangerous. By the time I land, the box is like, half-eaten. Wrappers. There's chocolate on my pants. I like Mast Brothers chocolate also.
Fragrance?
I wear Le Labo; I get the Chicago scent, which is Baie Rose. If you go in September, you can buy it at any Le Labo. Otherwise, I have to have somebody ship it from Chicago. But if you've smelt it, you would definitely understand why. It's a little musky, but rosy. It's spicy and also floral. You can't be too floral. It hits all the notes.
Sheets?
Brooklinen. They're really incredible. [I like] strictly white bedding. It actually creeps me out when I'm in nonwhite sheets a little bit.
Lip balm?
It's a lip mask, but I use it as a lip balm. It's a Korean brand called Laneige. They came out with these mini ones. I'm obsessed with it. I'm addicted. I actually just ordered some on Amazon. It makes your lips look really full.
If you buy something through our links, New York may earn an affiliate commission.