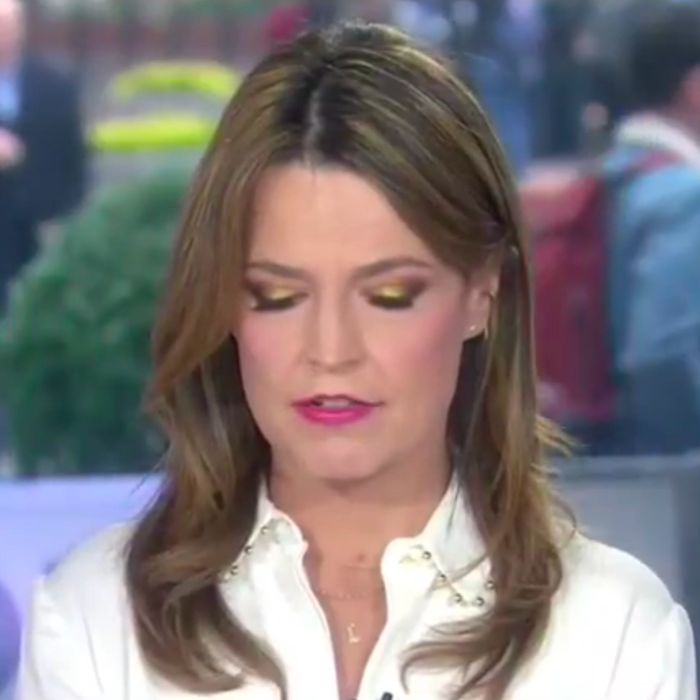 On Wednesday, the unthinkable happened: While co-hosting the Today show, Savannah Guthrie … said "shit."
Guthrie apparently didn't realize that she was on live TV when the hot-mic moment went down. In a clip circulating online, Guthrie is seen looking at her notes as she seemingly preps for a segment. For reasons unknown to us, she then says "Shit," followed soon after by, "Sorry, guys." She then keeps looking down and talking for about 30 seconds, at which point the audio for the program was turned off and a commercial aired.
Given that she works for a family-friendly morning show (that, um, recently employed a man accused of sexual assault), Guthrie took to Twitter to apologize for cursing on air. "Check, check — is this thing on? Yeah I guess it is. So sorry guys. Thanks for being kind and understanding. And guess it's good thing I don't wear a mic all day," she wrote, ending with the distinctively non-curse hashtag "#ohdarn."
Guthrie may have felt compelled to apologize for saying a word many of us utter repeatedly throughout the day (namely when dealing with public transportation or just thinking about the state of the world), but you know what? We love that she said it! We think Guthrie and her Today co-host Hoda Kotb make a great pair — and we've been dreaming of getting drunk on Pinot Grigio with them (à la Hoda and Kathie Lee). And now that we know Guthrie is just like us (as in, she occasionally curses), we're even more eager to down a few glasses of wine with her. Savannah, let's be in touch.