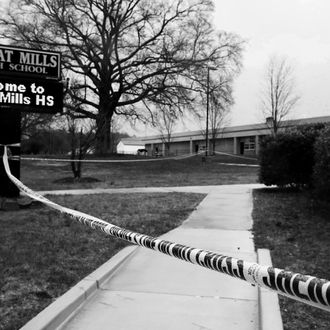 Great Mills High School.
Photo: Alex Brandon/AP/REX/Shutterstock
On Tuesday, 17-year-old Austin Mills shot two of his classmates at Great Mills High School in Maryland, just days after a national walkout to protest gun violence. One, a 14-year-old boy, has already been released from the hospital. The other victim, 16-year-old Jaelynn Willey, sustained much more serious injuries. A police statement from he St. Mary's County Sheriff's Office says Willey was targeted because she and the shooter "had a prior relationship which recently ended."
The news of the shooter's motivation then brought a multitude of headlines — which, for the most part, appear to be syndicated from the same Associated Press report — about how the shooter was a "lovesick teen." Many took issue with the word usage, arguing that it minimized the very real and common threat of domestic violence:
Mills was killed by an officer in the encounter, while Willey remains at the hospital in critical condition.