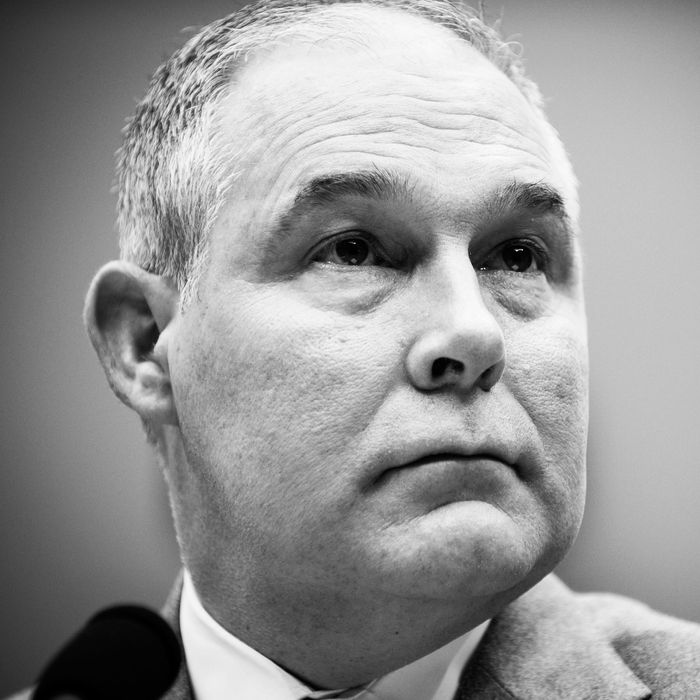 Scott Pruitt.
Photo: Pete Marovich/Getty Images
Trump administration officials have expensive taste. Interior Secretary Ryan Zinke reportedly spent $139,000 on an office door last year, HUD Secretary Ben Carson accidentally ordered a $31,000 dining set (technically, his wife ordered it, and he's trying to cancel it, okay?), and according to a new report from the Washington Post, EPA administrator Scott Pruitt has a $43,000 soundproof phone booth built in his office. That's a lot of money to spend on chitchatting with your oil-exec friends about the benefits of climate change.
The Post found that in addition to the $25,000 soundproof phone booth, the EPA spent $18,000 in prep work, including $7,978 to remove closed-circuit television equipment, $3,361 to include a dropped ceiling, and $3,350 to paint and patch the 55-square-foot booth.
Pruitt told lawmakers that the secure space was necessary for him to be able to do his job, but no other EPA chief has ever had a similar phone booth built, and the agency already has a secure facility for sensitive information on another floor.
"This is old news," EPA spokesperson Jahan Wilcox said in an email. "In September of 2017 we thoroughly discussed why this secure communications line was needed for the Administrator of the U.S. Environmental Protection Agency."
The phone booth has not been Pruitt's only costly renovation at the EPA. He also paid $2,057 to refinish a desk that had been stored in a government warehouse, and $2,963 for a new "captain's desk." Who knows, maybe he's opening his own branch of The Wing.