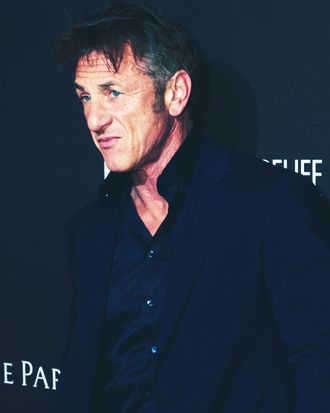 Sean Penn.
Photo: Greg Doherty/Patrick McMullan via Getty Image
Today in "truly no one asked for this," Sean Penn has offered his thoughts on the #MeToo movement via a poem.
The piece, which reportedly goes on for six entire pages, appears as the epilogue in the actor's just-released debut novel, Bob Honey Who Just Do Stuff. On its website, Simon & Schuster describes it as a "darkly funny novel about Bob Honey — a modern American man, entrepreneur, and part-time assassin."
To those who are wondering how a poem about the pervasiveness of sexual harassment might fit into that book: It doesn't, but it's there.
In a review of the book she describes as "an exercise in ass-showing, a 160-page self-own," writer Claire Fallon includes an excerpt of it. It truly has it all: references to accused men, unsolicited criticisms, and the turn of phrase "toddler's crusade."
Enjoy, and sorry.
Though warrior women

Bravely walk the walk,

Derivatives of disproportion

Draw heinous hypocrites

To their flock.

[….]

Where did all the laughs go?

Are you out there, Louis C.K.?

Once crucial conversations

Kept us on our toes;

Was it really in our interest

To trample Charlie Rose?

And what's with this 'Me Too'?

This infantilizing term of the day…

Is this a toddler's crusade?

Reducing rape, slut-shaming, and suffrage to reckless child's play?

A platform for accusation impunity?

Due process has lost its sheen?

But, fuck it, what me worry?

I'm a hero,

To Time Magazine!