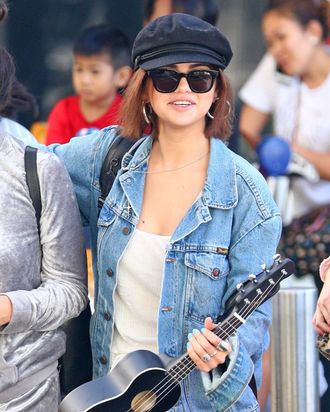 Selena! Ukulele!
Photo: BGAU/KHAPGGB /BACKGRID
It seems Selena Gomez is off-again with on-again, off-again boyfriend Justin Bieber. After a few months of riding bikes together and making out after church, the pair are reportedly "giving each other some space," which Selena is doing by flying down to Australia with her ukulele that looks new but might just be well-maintained, it's hard to say.
In Australia, Gomez has reportedly been hanging out on a yacht with some friends, and also presumably taking time to sit alone and mournfully strum Jason Mraz's "I'm Yours" on her little uke. Seems safer than post-breakup bangs.