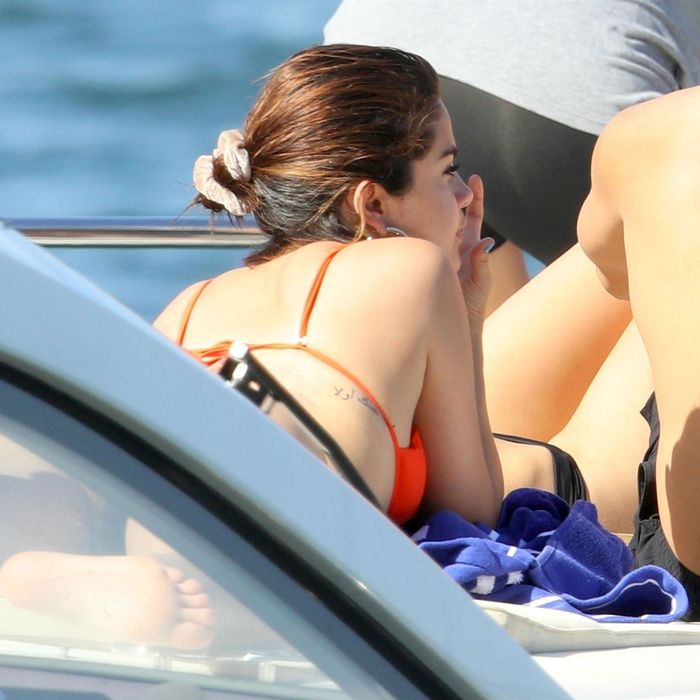 Selena Gomez.
Photo: BGAU/Backgrid AU/BACKGRID
After taking a week off from Instagram, Selena Gomez posted a video of her friends yachting, eating avocados, and smiling in Australia. The video included all types of nautical fun, like a clip of a friend popping his head out a window, and was soundtracked to Dreams Tonite by Alvvays. The caption, on the other hand, was more serious:
"The beauty myth- an obsession with physical perfection that traps modern woman in an endless cycle of hopelessness, self consciousness, and self-hatred as she tries to fulfill society's impossible definition of flawless beauty. I chose to take care of myself because I want to, not to prove anything to anyone. 

Wind in her sails. 🌈💜"
This post comes after a flood of paparazzi photos of the singer in a bikini emerged on social media, igniting conversations about the visible scar from a kidney transplant surgery last year.
This isn't the first time Gomez has spoken publicly about physical perfection. In 2016, her American Music Awards speech embodied a similar theme: "I don't want to see your bodies on Instagram, I want to see what's in here," she said, gesturing to her heart. "I'm not trying to get validation, nor do I need it anymore. But if you are broken, you do not need to stay broken."