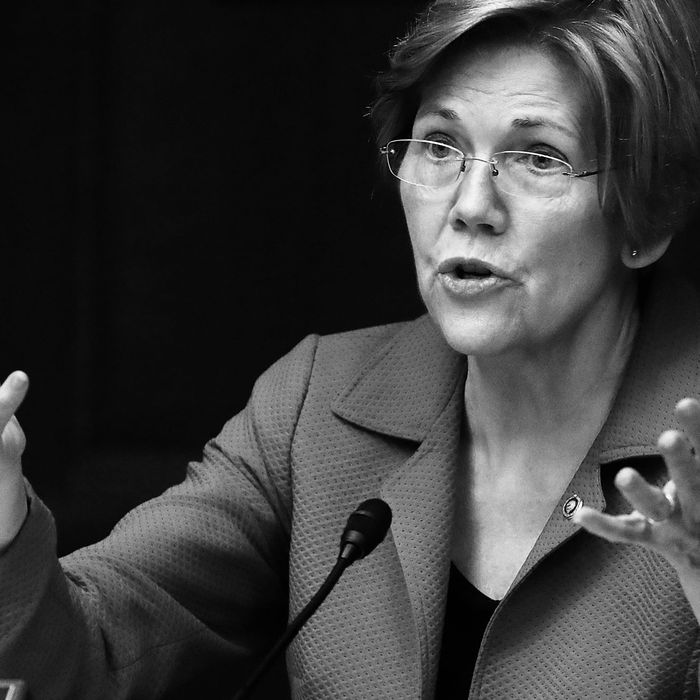 Elizabeth Warren.
Photo: Joe Raedle/Getty Images
It's been nearly two years since Donald Trump first referred to Massachusetts Senator Elizabeth Warren as "Pocahontas," a derogatory reference to her Native American ancestry. After he most recently used the racial slur at a campaign rally last night, Warren went on CNN and used the attack to bring awareness to Native peoples' experiences.
Speaking to Jim Acosta on State of the Union this morning, Warren chose to highlight the pervasiveness of sexual violence within Native communities.
"I went to speak to Native American leaders and I made a promise to them, that every time President Trump wants to try to throw out some kind of racial slur, he wants to try to attack me, I'm going to try to use it as a chance to lift up their stories," Warren said. "I'm going to do that right now by pointing out that more than half of Native women in this country have been the victims of sexual violence, and more than half of them are attacked by non-natives. And the American government is doing nothing about this."
The meeting Warren was referring to was one from this past February, at which she made a promise to Native leaders to "lift up" their stories every time someone brings up her family's history. Her own ancestry has been controversial, though, as during Warren's academic career, she listed herself as a minority in a law school directory, and was praised as a Native American faculty member at Harvard. Warren has not been able to produce definitive evidence for or against her Native ancestry, and just this morning on NBC's Meet the Press, she said she has no plans to take a DNA test.
The rate of sexual violence in Native communities, though, is unquestionable. A 2016 study by the National Institute of Justice found that 84 percent of Native women in the United States — more than 1.5 million — have been victims of violence. The study further elaborates that more than half of those incidents were a form of sexual violence.
"Native American women are subjected to sexual violence at rates much higher than any other group in our country," Warren told Acosta. "We need to put some focus on this and we need to make some changes on this. We owe it to people living in Native communities."