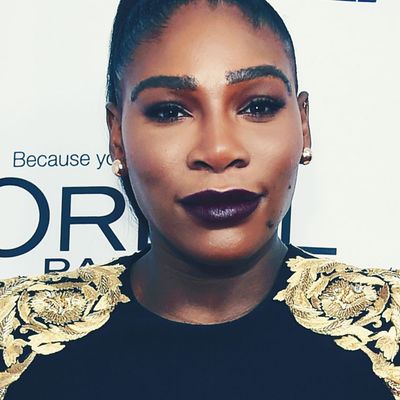 Serena Williams.
Photo: Jamie McCarthy/Getty Images for Glamour
Serena Williams can do it all, like push through an incredibly intense birth and ace a dance competition, all the while being one of the greatest athletes of all time. According to recent revelations, it appears the next arena she's preparing to dominate is the world of cosmetics.
TMZ discovered that in late January, Williams filed to trademark the name "ANERES" — or, "Serena" spelled backward. While she first filed documents to trademark the name in 2003, that was solely for a clothing line. The new patent was filed on January 30th of this year.
According to the U.S. Patent and Trademark Office, Williams's line can nclude skin care (smart!), cosmetics and makeup kits, colognes and perfumes, lotions, and bodywashes. It can also include hair products, including normal and dry shampoos, hair sprays, and hair gels. She's also allowed to make (decorative) backpark charms.
Williams has yet to comment on the line.