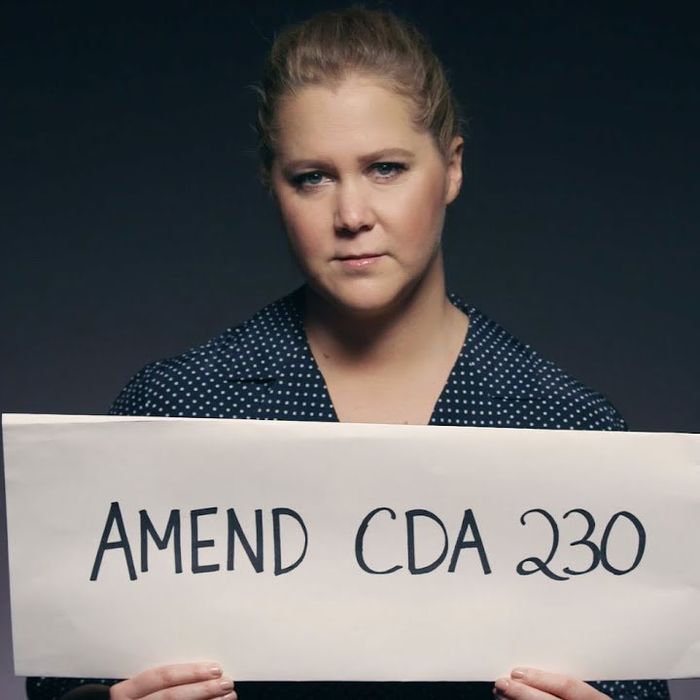 Amy Schumer is one of many celebrities who has done PSAs in support of SESTA.
A Senate vote is expected any day now on the Stop Enabling Sex Trafficking Act (SESTA), a bill that would clarify the country's existing sex-trafficking laws and update Section 230 of the Communications Decency Act, all to ostensibly protect sex-trafficking victims. While the bill has wide political support and a handful of celebrity endorsements, many sex workers and actual advocates for trafficking victims have spoken out against it, arguing that it will make vulnerable populations less safe.
Here's what to know about SESTA:
What is Section 230 of the Communications Decency Act?
In short, it's a landmark piece of legislation that protects freedom of expression on the internet. As described by the ACLU: "Section 230 of the Communications Decency Act immunizes websites from legal liability for the comments of their users … it defines Internet culture as we know it: It's the reason why websites can offer platforms for critical and controversial speech without constantly worrying about getting sued."
What exactly is SESTA?
In August 2017, Republican senator Rob Portman of Ohio introduced the first version of SESTA, which he designed to make it easier for plaintiffs and state attorney generals to sue Backpage and other websites that "knowingly assist, facilitate, or support sex trafficking."
And why is it sometimes referred to as FOSTA-SESTA?
FOSTA, which was introduced in the House by Republican representative Ann Wagner, stands for Allow States and Victims to Fight Online Sex Trafficking Act. Essentially a different version of the same legislation, FOSTA conflates sex trafficking and sex working by widening its scope to include websites related to prostitution. In late February, the bill passed on a 388-25 vote — just 14 Republicans and 11 Democrats voted against it.
So what does SESTA have to do with sex work?
Both FOSTA and SESTA target websites like Backpage, which they depict as home to rampant sex trafficking. But many sex workers argue that the bills would threaten websites that allow them to do their work both safely and independently.
On Instagram, adult performer Lorelei Lee posted an impassioned plea to her followers to call their senators about opposing SESTA. She writes:
This bill claims to target human trafficking, but does so by creating new penalties for online platforms that are overwhelmingly used by consensual, adult sex workers to screen clients, to share "bad date lists," to work indoors, and to otherwise communicate with each other about ways to stay alive. Data shows that access to these online platforms decreases violence against sex workers, but I don't need data to know that my friends are safer with the ability to screen clients, to share information, and to work indoors. In 2006, my friend Sequoia was stabbed and killed by a client while working alone and outdoors. I know that supporters of these bills want to end violence against women and against marginalized people of all genders. So do I. SESTA will only increase violence against the most marginalized.
Are sex workers the only ones who oppose SESTA?
No. While sex workers have been especially vocal, as the bills could threaten their livelihood, various free-speech and technology companies have also opposed the bill. Electronic Freedom Foundation, for example, express their disapproval in a statement titled, "House vote on FOSTA is a win for censorship."
So who exactly supports SESTA?
Aside from lobby groups and politicians — both Democrats and Republicans — a lot of celebrities have spoken out in support of SESTA. Amy Schumer and Seth Meyers went as far as to make a PSA about it. Another major group of SESTA supporters are those on the religious right. For example, the National Center on Sexual Exploitation — the same group that's attempting to revoke the adult entertainment industry of its First Amendment rights by creating a moral panic around pornography — is a major advocate for SESTA. While some of the rationale behind supporting is grounded in a belief that the bill will prevent sex trafficking, many of the bill's advocates are those opposed to sex work in general.