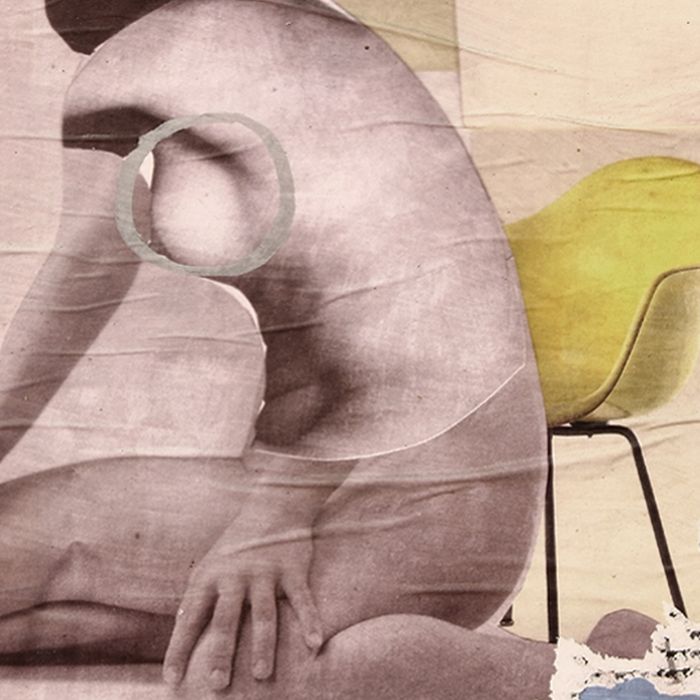 Illustration: James Gallagher
New York's Sex Diaries series asks anonymous city dwellers to record a week in their sex lives — with comic, tragic, often sexy, and always revealing results. This week, an insurance associate who makes a date with a married colleague: 30, straight, single, Philadelphia.
DAY ONE
4 a.m. I wake up this ungodly early every weekday. Jobs aren't great in my industry where I live, so I have a 90-minute commute to work, each way. I like what I do and even though I'm a cog in the Corporate America wheel — it's the insurance business — I like to think it has some small positive impact on the world.
4:30 a.m. Group text from my boss, with suggestions for how we should be structuring our day. My boss calls 4 a.m. "the champion's hour" — he's already at the gym. He's young, 37 or 38, one of the youngest to run an office in the entire company. His wife is a stay-at-home mom to their two kids in a huge house on a lake.
6:45 a.m. It's still dark outside when I get into my car. I genuinely enjoy my ride to work because I drink 32 ounces of very strong coffee and sing for the whole 63 miles. Right now I'm stuck on SZA's "Ctrl." Man, that girl's got a voice.
6:30 p.m. Finally home. I put on sweats and straighten up the house because AJ, my housekeeper, comes tomorrow.
9 p.m. I'm lying in bed scrolling through social media. There's stuff going on tonight but honestly, I'm too tired to go out on weeknights.
DAY TWO
4 a.m. I shut off my first alarm and turn on the second one because I was up too late last night doing nothing.
9 a.m. Sitting at my desk. My phone vibrates. It's a text message from an unsaved number, but one I recognize nonetheless. I don't hear any footsteps coming toward me, so I unlock my home screen. It says, "What r u wearing today?" I text back: "How about I tell you what I'm NOT wearing instead?"
"OMG I love it. I bet you are scared for Monday." He's not wrong, but I'm feeling something else much more strongly than fear. I just can't put my finger on what it is.
"He" is 34 and gorgeous, but we've only seen each other in person maybe four times. His 2-year-old daughter is gorgeous, too, but I've never seen her in person. I have seen his wife in person, because "he" is a regional vice-president in the same organization where I work. And on Monday, he's renting a car and driving four hours round trip to spend two hours with me. It's the first time.
7 p.m. I'm drinking a glass of shitty drink-ticket wine at a networking event. I haven't had any alcohol in almost three weeks, so the one shitty glass has me pretty buzzed. I've been doing the keto diet, so I cut out alcohol to jump-start myself.
There aren't any good-looking guys here for me to flirt with, so I go home before 8.
DAY THREE
7 a.m. Two notifications from Snapchat remind me that if I'm going to have an affair with my married colleague, I should give him some kind of pseudonym. He's using Snap instead of texting, which means he's probably asking for a picture. I'm driving and decide this isn't the evidence I want the police to find on my phone, so I put it down until I get to work.
7:45 a.m. Open up Snap. "Show me that smile," he instructs. I turn on the pretty filter (you know the one) and snap something quickly in the parking lot. Instant reply: "You are fucking beautiful."
11 a.m. A text from my dad. We're not especially close, which anyone could tell by looking at our digital exchanges. Case in point: The night that his father died, he sent a text. "Pop had a heart attack. It doesn't look good." We live 30 miles apart. It's probably also worth noting that my dad had ten separate affairs by the time I was 3 years old. I've been debating asking him about them, if only to get a better understanding of my own behavior. My first memory is walking in on a fight he and my mom were having over a woman named Nicole. I don't remember much of it anymore, except for my mom saying that he made a mistake, and my dad rhetorically asking, "You want to see a mistake?" before punching a hole through our hallway wall. They stayed married until I was 18.
1:23 p.m. Along with what I assume to be most women, I bristle at dick pics. But there's something super-hot about getting one at a deliciously inappropriate moment, so I ask my married paramour for a quick shot. Honestly, I can't believe he just took that in his office. This one comes via Snapchat, but he's sent them via text, too. He likes the risk or something. I tell him I need one of his face and he sends it. Really, he's very handsome. Tall and slim, a Gemini if I had to guess. Obviously popular in high school. Dark hair, dark eyes, ornery smile. I see a couple of tattoos in the pictures he sends me. Him in Nashville for a bachelor party. Him driving home from work. Him relaxed on a long couch, sports on the TV in the corner.
He's been pursuing me heavily since July, right around the time I turned 30. We occasionally will need to work on a project together, but we don't work in the same office, so our communication is largely over email. After he came through with something I needed way ahead of the original deadline, he said I could pay him back with a beer. I told him that I'd be out that weekend to celebrate turning 30, and he joked about wanting to see all the pictures. "Do you have Snapchat?" he asked. I said yes and gave him my handle. And really, I knew exactly what we were doing.
He stayed friendly and flirtatious, cycling himself out when he saw I was dating someone, for months. But after a week-long series of newly single selfies, he asked if he could take me on a date. When I tell you I saw every single, slimy, slithering worm in that can, I promise you I did. And I peeled it right open anyway.
"Do you remember seeing me in Las Vegas?" he typed out. Two thousand of us were there for work a few months before, and I did remember.
"Who was I with?"
"Your wife."
And so he confessed that he was unhappily married. She was miserable, he said, and didn't care how much pressure he was always under at work. I remembered overhearing someone mention in Vegas that she spent the entire weekend gambling heavily. He told me he had never cheated before, but wanted something regular and wanted it with me. He said he had wanted to do this since the first time we met, two years earlier. He also said he had no intention of separating or getting a divorce.
4:30 p.m. We've been sexting all day. I have a ton going on at work and therefore have no business sexting all day, but I'm excited. "I love it when you call me by my last name," he snaps me. I'm not sure why, because absolutely everybody in the office calls him by his last name. "I want you to tell me I'm the king."
10 p.m. I open up Snapchat and take a shot from a slightly higher angle, lying on my belly and with the camera positioned above my face. It's cute and sexy, and all that's on display is my smile and the curve where my waist meets my hip. I save it but don't send it — too much of a risk that his wife will hear or see something and get suspicious.
DAY FOUR
8 a.m. It's the day before my long weekend. Someone brought bagels to the office, but I have to be naked on Monday, so I stay out of the break room.
12:38 p.m. I'm pleased to see the no-name-number pop up on my phone, because I know I won't hear from him again until Monday morning. "I can't see you with a loaded gun," he texts.
12:39 p.m. "You're young — I'm sure you'll reload quickly," I tell him.
12:40 p.m. "Out of the question, it takes way too long." I don't write anything back.
6:30 p.m. I just got home. It's Friday night, but I'm too tired to feel like doing anything. I watch two horror movies and fall asleep on the couch during the third. Not scary enough.
DAY FIVE
9 a.m. I take my grandmother on my dad's side out for breakfast every other Saturday. She's been a widow since November 2016, and my dad is an only child. I am too. Grams always refers to my dad by his first name when she's talking to me, like we're discussing someone I've only met a handful of times. I've only recently noticed that it's weird.
7 p.m. Dinner for my stepdad's birthday tonight. I'm acutely aware of how good I look at the moment, so I snap a picture and send it. "I can't wait" is the response, and neither can I.
11:30 p.m. I don't feel like being out anymore, so I take a Lyft home and go immediately to bed. I think about how good it feels to take a Lyft home and go immediately to bed with someone I love. I've had that kind of love before — the kind where the most routine and basic parts of your relationship are the most special. That's what I think a lot of my generation gets wrong about making love work long term: Life is, largely, routine and monotonous. You have to be with someone who makes the boring stuff fun.
DAY SIX
10 a.m. I spend literally all day reading the newspaper and drinking coffee. I am very protective of Sundays. More than a few times I get caught up thinking about tomorrow …
6 p.m. He's sending me pictures from a party he's at, and I notice his daughter is in one. I think I see his wife in another. They're with friends at someone's house. I'm uncomfortable thinking about how much of this woman's personal life has become my business. I feel discomfort, but not guilt.
11 p.m. I'm trying to sleep but I'm too excited. Incredibly turned on by the idea of someone risking their career and family to have a (probably) one-time encounter with me …
DAY SEVEN
7 a.m. The alarm. No turning back now — he'll be here in four hours.
8 a.m. I make coffee and a mimosa.
9:38 a.m. Incoming text message: "My rental car keeps overheating. Has this ever happened to you?" "No," I reply. "Be careful, please."
9:44 a.m. Another text: "Maybe this cop can help me lol."
He's pulled over on the side of the road, halfway between us, with a smoking vehicle. I consider that this is probably a karmic warning shot and I should tell him to go home. I make a third mimosa before convincing myself, and he's back on the road. I skip the orange juice.
11:03 a.m. "Can't wait to pee," he writes. I reply that this isn't quite the sext I was expecting, and he laughs and apologizes.
11:30 a.m. We're both nervous, but I'm the only one who's consumed an entire bottle of Champagne. We stand in the kitchen and talk about his rental trouble and what's going on with our current projects at work, and then there's nothing else to say. "I can't wait anymore," he says, lunging forward and kissing me hard. He's a really good kisser, and I wrap my arms around him, running my hands down his back and up his chest, pausing to run my fingers down the length of his jawline. He feels thinner than he looks.
He keeps one hand around my waist and the other in my hair for a couple minutes, slowing down and speeding up. Less tongue and more tongue, until he pulls away softly.
11:45 a.m. Upstairs in my bedroom, we undress ourselves separately and he kisses me again, moving me onto the edge of the bed. I see a flash of his grin before he slides down between my legs until he's kneeling on the floor.
He knows exactly what I want, but I know I won't come. I don't feel anything for him, so I fake it and he doesn't notice.
Climbing back onto the bed, he grabs my hips and pulls me towards him, onto him. I inhale deeply and it feels so, so good.
Noon The whole thing is over pretty quickly, and he's sitting on the edge of my bed in boxer shorts, legs dangling over. He kind of looks like he's waiting in a doctor's office.  He talks more about work and then apologizes for talking about work. "I really do love what we do, though," he says. I lie and say I like listening.
12:15 p.m. Still talking about work. People he thinks are on their way out, people we think are having affairs. He admits he's taking prescription medication for ADHD and anxiety to deal with the responsibilities of running an office.
12:20 p.m. We sit down on two separate couches in the living room. We respond to emails that have come in over the last hour and bitch about what's going off the rails with our separate projects.
12:35 p.m. I ask what he's got going on the rest of the day. "Just picking up my daughter," he says.
And then he stands up and unbuckles his belt. "I like what we do. I'm one of the youngest guys to run an office. Now get up, because I'm going to fuck you again."
I grab onto his hand, which is on my left hip, and feel the band around his finger. I start to move, but he laces his fingers through mine, kissing my left ear. A minute later, he pulls my chin toward him and kisses me hard. He moans, but my tongue is in his mouth.
1:52 p.m. I'm on the couch, eyes closed, when my phone goes off. "That was really good," the text reads.
1:53 p.m. I don't wait before replying, "I thought I might regret it, but I don't at all."
1:54 p.m. I click my lock screen one more time to see his response: "I don't either."
Get Sex Diaries every week.
Want to submit a sex diary? Email sexdiaries@nymag.com and tell us a little about yourself.