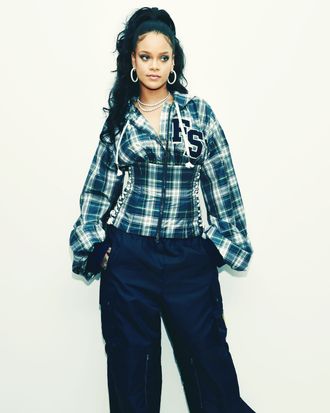 Rihanna.
Photo: Dimitrios Kambouris/Getty Images for FENTY PUMA by R
Here's a revolutionary idea: Don't mess with Rihanna, ever. After Snapchat posted a tone-deaf ad referencing Chris Brown's conviction for assaulting Rihanna, the singer and beauty queen slammed the app. As a result of its egregious blunder, Snap's market value has dropped a tad bit — by $800 million, to be exact.
While Snapchat said the ad was never meant to be published, many users saw it before it was taken down last Monday. Meant to advertise a game called, "Would You Rather?", the ad asked users, "Would you rather slap Rihanna or punch Chris Brown?"
After the ad was pulled from the platform on Monday, Snapchat apologized in a statement that read, "The advert was reviewed and approved in error, as it violates our advertising guidelines."
But that wasn't enough. The same morning, Rihanna took to Instagram to vent her disgust.
"Now SNAPCHAT I know you already know you ain't my fav app out there! But I'm just trying to figure out what the point was with this mess!" she wrote. "I'd love to call it ignorance but I know you ain't that dumb. You spent money to animate something that would intentionally bring shame to DV victims and made a joke of it."
And according to CNN Tech, just a day after Rih called out the ad, Snapchat stocks dropped 4 percent, costing the app those hundreds of millions of dollars.
Will Snapchat be able to weather losing the support of Kylie Jenner and Rih? Only time will tell.