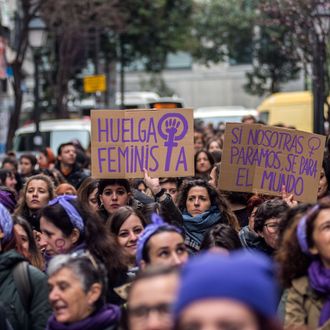 Scene from the strike.
Photo: Marcos del Mazo/LightRocket via Getty Images
Women in Spain are observing International Women's Day with a massive, nationwide "feminist strike" — and, according to the main trade unions, 5.3 million people have participated.
Per The Guardian, the event is "intended to highlight sexual discrimination, domestic violence, and the wage gap." The slogan for the strike is "if we stop, the world stops" and their manifesto — which calls for an end to sexual violence and oppression — can be read here.
The strike, during which women have been encouraged to participate in two-hour walkouts, was organized by a group called the 8 March Commission. Madrid mayor Manuela Carmena and Barcelona mayor Ada Colau have both expressed strong public support. According to the BBC, Spanish actress Penélope Cruz also canceled her events for the day, saying she was on a "domestic strike."
"As people in public positions, we have the duty to mobilize on behalf of those who can't go on strike," Colau said of her decision to support the strike. "This is the century of women and of feminism; we've raised our voices and we won't stop. No more violence, discrimination, or pay gap."