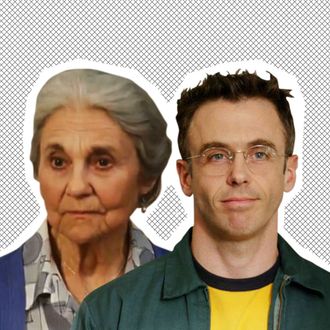 Magda (Lynn Cohen) and Steve (David Eigenberg).
Photo: Courtesy of HBO
In the days since actress and activist Cynthia Nixon officially announced that she's running for governor of New York, there has naturally been some speculation as to whether her former Sex and the City co-stars would also support her politically.
Nixon's most famous role is as ambitious lawyer Miranda Hobbes, one of SATC's four leads; Kristin Davis, who played fellow lead Charlotte York, emphatically endorsed her early on. Now, the actors who played Steve Brady — Miranda's down-to-earth bartender baby daddy and eventual husband — and Magda — her traditionalist Ukrainian housekeeper and nanny — have also thrown in their support.
David Eigenberg, who played Steve, initially sent his well-wishes to Nixon in a tweet on Wednesday, then elaborated in an email to the Cut. "She's incredibly smart and caring, diplomatic and brave," he wrote. "I truly believe she has a genuine and heartfelt desire to move towards a common good for all the people of the Great State of New York." Eigenberg added that he would vote for her if he could, but he currently resides out of state.
"She's an amazing person, and she's been talking about the schools and the children and I wish we had more people like that who are interested in the government," Lynn Cohen, the veteran actress who played Magda, tells the Cut. "I also think we need women. You look at the government now and you think, where are the women? … Women are the smartest, let's face it."
She's planning to vote for Nixon in September's primary, adding, "I don't think she's ambitious in a political way, she really is involved in making life better for other people: for children, for people who don't have it. You don't see too many politicians like that."
Meanwhile, we wait with bated breath for what Baby Brady has to say.