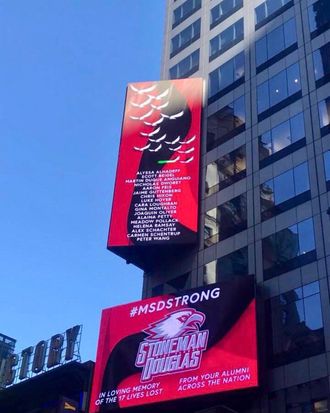 Times Square's Stoneman Douglas tribute.
Photo: @BigSignMessage/Twitter
On Tuesday, the names of all 17 people who were killed during the horrific Florida school shooting were displayed on a skyscraper in Times Square, alongside two other Marjory Stoneman Douglas High School memorial signs on the busy New York City street corner.
The signs were designed by two Stoneman Douglas alumni, Shane Fedderman and Stacy Goldman, and donated by Big Sign Message, WLPG reports. Each features the school's mascot — the flying eagle — and the words, "In loving memory of the 17 lives lost, from your alumni across the nation" are displayed on the bottom of two signs.
Big Sign Message tweeted that it was "proud to have helped, even in a small way, the alumni" of Stoneman Douglas High School "show these touching thoughts … for the world to see." The messages were displayed all day Tuesday.
The shooting claimed the lives of 17 people, many of them young students with so much potential. Since the massacre occurred, a number of students have become outspoken advocates for stricter gun-control laws and have helped organize the upcoming March for Our Lives on March 24, a nationwide protest against gun violence.
A number of small, tangible steps toward gun control have also been taken since the shooting — including new proposed state laws and retailers changing their gun-buying policies — but there is still much left to be done to protect people from gun violence, including pressuring politicians to prove themselves willing to protect their constituents by breaking ties with the NRA and donating to one of the many groups fighting for gun control.