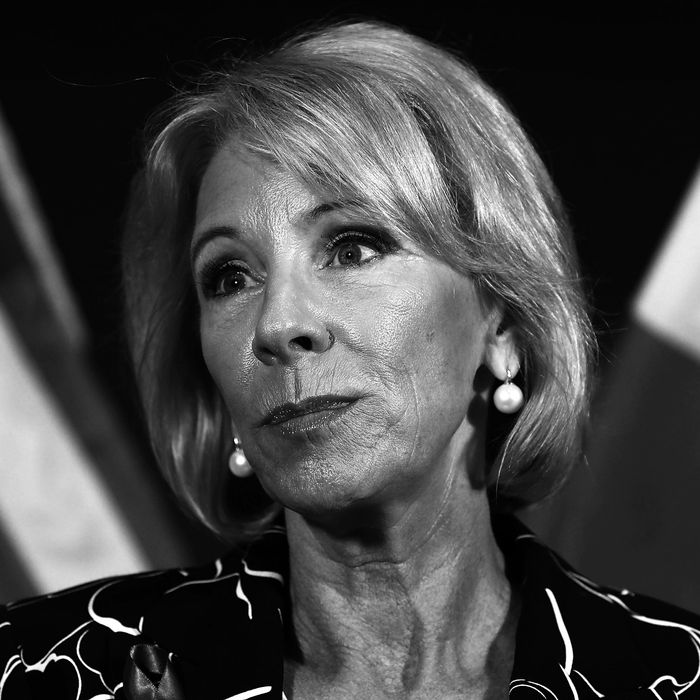 Betsy DeVos.
Photo: Joe Raedle/Getty Images
Students at Stoneman Douglas High School were not impressed by Betsy DeVos's visit to their campus on Wednesday.
The education secretary visited Stoneman Douglas on its first full day of classes since the a shooter killed 17 people at the school on Valentine's Day. In a press release on Tuesday, the secretary's office said she would, "connect with students and teachers in the wake of the tragic shooting," but according to students, she dodged their questions, and it wasn't clear why she made the trip.
"Betsy Devos came to my school, talked to three people, and pet a dog," one student tweeted. "This is incase the press tries to say something else later."
"They didn't see the purpose of her being there," Broward Teachers Union president Anna Frusco told HuffPost. She said DeVos "was very vague in her answers" to students' questions about ending gun violence, and that she met briefly with a few students, teachers, and therapy dogs, and "that was literally it."
"I saw their faces, like, 'What the hell is this?'" Fusco said of the students present.
DeVos also held a short press conference at the end of her visit. When asked if she made any promises to Stoneman students, she answered, "I told the student newspaper reporters that I would love to come back sometime, in an appropriate amount of time, and just sit down and talk with them."