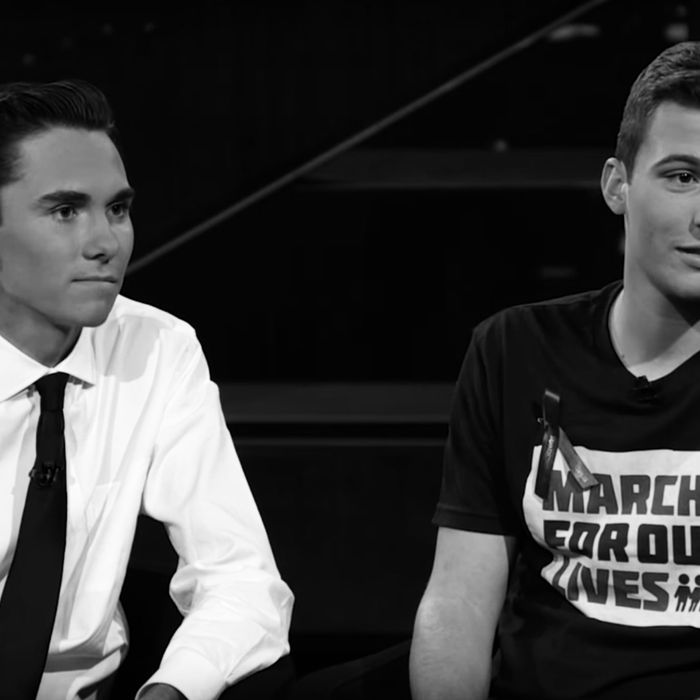 David Hogg and Cameron Kasky.
In the weeks since the tragic school shooting at Marjory Stoneman Douglas High School, the courageous teenage survivors have become vocal advocates for stricter gun laws who are unafraid of attacking their NRA-friendly representatives and calling "BS" on political inaction. On last night's Real Time with Bill Maher, two survivors appeared on HBO to discuss the upcoming March for Our Lives rally and demand that Donald Trump listen to their cries.
Early on in the interview, one of the survivors, David Hogg, disclosed that the White House invited him to attend Trump's listening session. Hogg — who has been accused of being a "crisis actor" — declined, as he had funerals to attend the next day.
He described the conversation around the invitation: "I ended on this message with them. I said, 'We don't need to listen to President Trump. President Trump needs to listen to the screams of the children and the screams of this nation.'"
Cameron Kasky, another student survivor who appeared alongside Hogg, talked about the details and inspiration behind March for Our Lives, the nationwide protest on March 24 to protest gun violence.
"With the march we want Americans to stop being afraid of demanding our politicians to take action," Kasky said. "They work for us, we don't work for them."
He continued: "We don't respect you just because we have to. We don't respect you just because you have 'senator' in front of your name. We are just kids begging for our lives, getting murdered in our classrooms."
Watch the full clip below.