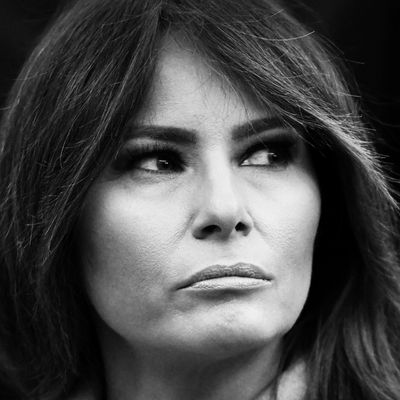 Melania Trump.
Photo: Olivier Douliery-Pool/Getty Images
On Sunday night, adult-film actress Stormy Daniels gave her much-anticipated 60 Minutes interview, during which she elaborated on her alleged 2006 affair with President Donald Trump. This included claims that she spanked Trump, that he compared her to his daughter, and that his team threatened her. Daniels also says that he brushed off her questions about his wife Melania who, at the time of this alleged encounter, had recently given birth to their son Barron.
While the First Lady has not publicly responded to the interview yet, her communications director, Stephanie Grisham, issued a tweet in response to the discussion around the interview.
"While I know the media is enjoying speculation & salacious gossip, Id like to remind people there's a minor child who's name should be kept out of news stories when at all possible," she wrote.
Trump himself did not respond directly either, instead firing off a tweet decrying "so much Fake News." For now, we can only sit and wonder if a) either of them will release a statement and b) more pressing, if Stormy Daniels has Trump's nudes.