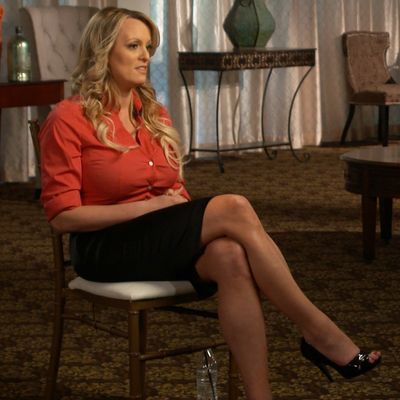 Stormy Daniels on
60 Minutes
.
Photo: CBS Photo Archive/CBS via Getty Images
Many details were revealed throughout Stormy Daniels's 60 Minutes interview with Anderson Cooper on Sunday Night, but all I could see were her toes.
They appeared onscreen about eight minutes and 30 seconds into the episode — after the Forbes magazine spanking and Shark Week anecdotes, but before Cooper essentially asks Daniels if she has Trump's nudes. For a brief moment, the camera zoomed out and we caught a glimpse of the adult-film star's toned legs, which lead straight into a pair of patent-leather pumps. At their tip: a surprise. Three toes, all manicured red, peeping out from the front.
From the waist up, Daniels wore a bright pink dress shirt, the buttons of which seemed to embody all the tension in the room. On her lips, a shade of lighter pink. Just above them, an empty hole where a piercing once lay. Her blonde hair was curled into bouncy ringlets. Altogether, she looked professional and self-assured. "Brilliantly boring," as Rhonda Garelick puts it. But the toes! Open-toe pumps are an obvious byproduct of Stormy Daniels's personal brand — they're not far from the heels she often wears as a dancer — but they arguably revealed so much more than her feet on Sunday night.
Like 60 Minutes, peep-toe pumps are dated, which is partly why I was surprised to see them on national television in 2018. They were popular in the early 2000s, when they could be found on shows like The O.C. and My Super Sweet 16 — or maybe even The Apprentice, on which Trump promised Daniels a role. (He did not keep his promise.) Of course, you can still find peep-toe pumps on The Real Housewives and The Bachelor today, but I think it's safe to say that they are not à la mode.
And yet, as the famous Faulker quote goes, the past is never dead. It's not even past. Daniels's alleged affair with Donald Trump took place in 2006, around the same time that his daughter, Ivanka, was palling around with Paris Hilton. The characters of the early aughts — as well as every email or text message they ever sent on a Blackberry phone — continue to haunt us. Like peep-toe pumps, belly-button rings, and low-rise jeans, there's something endlessly appealing about the decade's unapologetic, unfiltered sense of self-exposure.
Aesthetically, peep-toe pumps defy expectations; they are both so wrong and so right. Unlike sandals, which serve the sole purpose of exposing toes, they are a regular shoe — a pump — that has decided to be something it's not. Their fronts are bluntly chopped off, almost as if their wearer dropped a sharp knife at their feet. But to what end? High-heeled shoes are a sign of formality. Toes are not, especially when they appear to be dismembered. Combined, though, they're supposed to read as sexy. The peep-toe pump wants to show you a little more skin than its compatriots. It has nothing to hide, but in a controlled, unpretentious way.
Today, peep-toe pumps read as uncomfortably revealing, exposing parts of ourselves that we've become accustomed to hiding in formal situations. Some might be offended by their presence, wishing they hadn't opened up at all. Others will applaud their brazenness. Which is all to say that peep-toe pumps are actually the perfect metaphor for Stormy Daniels. Like the rest of her 60 Minutes interview, the American public will have to wrestle with the image of her toes for at least the rest of the week.
That being said, I'll take Stormy Daniels's toes over the image of Donald Trump's bare bottom, any day.
This article has been corrected to show that Stormy Daniels mentioned Forbes magazine.