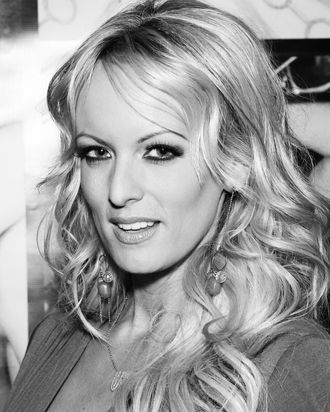 Stormy Daniels.
Photo: Gabe Ginsberg/FilmMagic
The day after CBS broadcast Stormy Daniels's record-breaking 60 Minutes interview, which gave new insight into her alleged affair with Donald Trump, the adult-film star added a new amendment to her existing lawsuit against Trump, The Hill reports.
While the interview didn't reveal any major new details about all that has reportedly transpired between the adult-film star and the president since their first alleged sexual encounter at a golf tournament in July 2006, it aggravated Trump's lawyer, whose own attorney said Daniels should apologize for claims made during the segment.
Daniels instead decided to sue Trump's lawyer, Michael Cohen, for defaming her by suggesting that she has been lying about her alleged affair with Trump. Instead of filing a whole new lawsuit, Daniels added the complaint to her existing one against Trump, which claims the NDA she and Cohen signed is invalid because Trump never signed it himself.
The lawsuit is scheduled to be heard in Los Angeles County Superior Court on July 12.