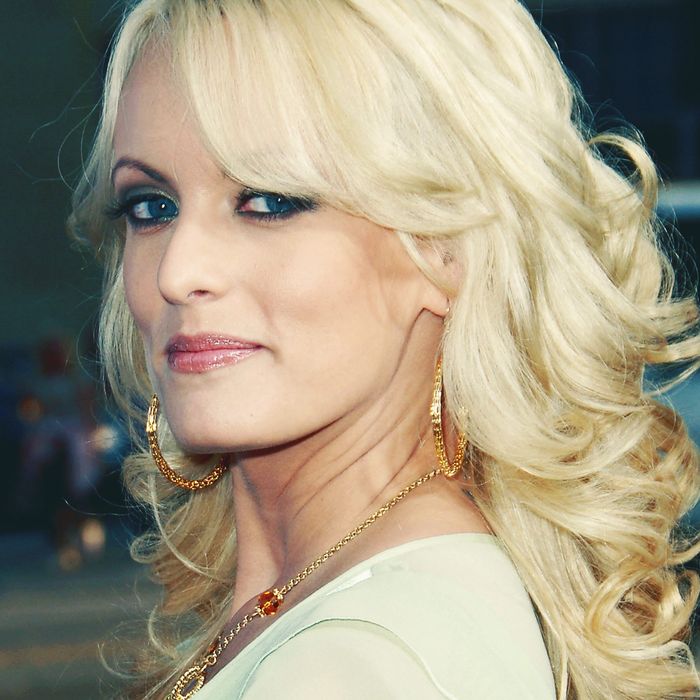 Stormy Daniels.
Photo: Jon Kopaloff/FilmMagic
If politics has devolved into a bad reality-TV show, Twitter is the confessional where cast-members go to advance their own narratives, and say things like, "I didn't come here to make friends." And no one has mastered the art of the tweet quite like Stormy Daniels.
Daniels, an adult-film actress, screenwriter, and director, has more or less dominated the news cycle since news broke that she was allegedly paid $130,000 to keep quiet about an affair with President Trump. And like many of the women who have dared to speak out against the president, Daniels has been the target of widespread ire and condemnation. But Daniels doesn't seem to mind. Unlike Trump, whose tissue-paper-thin skin leads him to tweet lies about how many people watched his State of the Union address, and about female journalist's alleged face lifts, Daniels can not only take the garbage people throw at her, she can spin it into gold.
Daniels regularly retweets critics and trolls, and her responses are honest, viciously funny, and wholly unapologetic. When a woman tweeted at her "@StormyDaniels Slut," Daniels responded simply, "Yes."
This week, her response to a troll who wrote "@StormyDaniels why don't you just disappear. No one cares you were a slut and slept with POTUS 12 yrs ago," was liked over 205,000 times, and retweeted over 45,000.
There is nothing Daniels loves more than clapping back at people who try to criticize or discredit her for her career in porn.
And she will never apologize for enjoying herself.
And sometimes, like all humorists, she falls back on a good old DMV joke.
As Rhonda Garelick noted in the Cut, Daniels is the anti-Donald Trump, "gloriously authentic for all her inauthenticity." Perhaps nowhere is this more apparent than on Twitter.
This weekend, Daniels's 60 Minutes interview with Anderson Cooper will air on CBS. If her Twitter is anything to go by, it should be interesting.