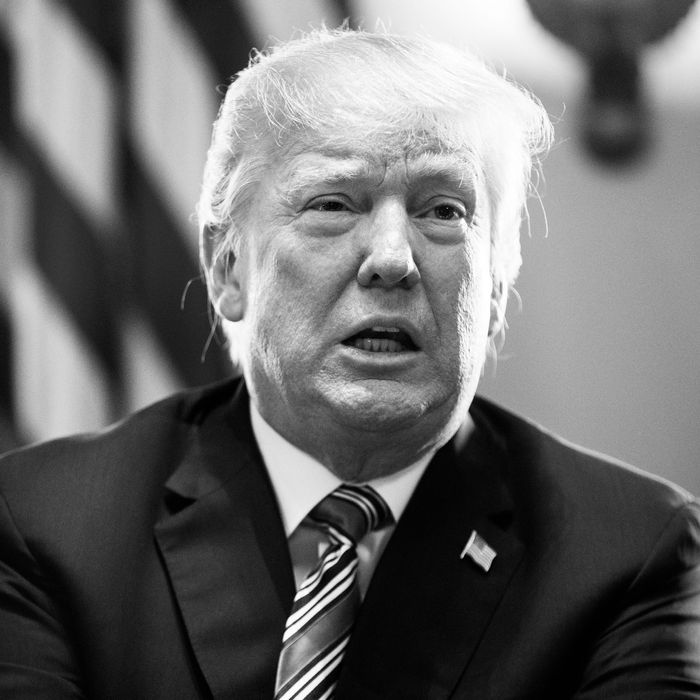 Donald Trump.
Photo: Michael Reynolds-Pool/Getty Images
On Thursday, the attorney representing adult-film star Stormy Daniels — Michael Avenatti — told CNN's Anderson Cooper that he has been approached by six other women who allege having similar stories about President Donald Trump.
Avenatti stressed that the women have not yet been thoroughly vetted "to any great degree," but he noted that at least two of them have nondisclosure agreements, as Daniels (whose real name is Stephanie Clifford) does. "The initial consultations, the initial information that we're receiving indicates that there are some striking similarities between their stories and that of my client, Ms. Clifford," Avenatti told Cooper.
Daniels allegedly received a $130,000 payment just before the 2016 election from longtime Trump Organization attorney Michael Cohen to keep quiet about her affair with the president one decade earlier (the scandalous details of the affair were published in a recentlysurfaced interview with In Touch). The adult-film actress also signed a nondisclosure agreement at the time — and Cohen admitted to making the agreement through a private LLC. Now, Daniels has filed a lawsuit in Los Angeles court alleging the agreement is invalid, claiming the president never actually signed it.
Avenatti, who is representing Daniels in the lawsuit, told Cooper that at least two of the women who have since come forward also have nondisclosure agreements. When asked whether the agreements came from the same LLC as the Stormy Daniels's document, the attorney replied, "We don't know yet." He continued, "We have viewed at least two nondisclosure agreements but it's unclear as to which LLC if any LLC have been used in connection with them."
The attorney added, "I want to stress that this is very early on. We have not made a determination as to whether we're going to represent these women or what the next step is."